Physics in action: Experiment with supraconductive materials, when cooled down by liquid nitrogen, these magnets are strong enough to make each other levitate.
In a recent interview, Commerce Resources' President, Chris Grove, mentioned that several companies are interested in creating a vertically integrated supply chain not connected with China. The next big step is to produce mixed rare earth concentrate samples for interested parties (including BASF, Mitsubishi, DKK, Solvay, and Treibacher Industrie, whereas other companies are covered by non-disclosure agreements). These highly sought-after samples are expected to be produced later this year, which could lead to another milestone in the form of a joint venture or strategic partnership. A Pre-feasibility Study is also targeted for completion in 2016. According to today's press release, latest tests have shown another advantage in fluorspar as a potential by-product. There is a significant market for the commodity but it was not considered in the PEA. Québec's Société du Plan Nord has expressed interest in building a road that could connect Kuujjuaq with the railhead at Schefferville. If built, the road could potentially go by Ashram. The government has also discussed various means of incentives for Commerce if it were to place its proposed hydrometallurgical facility within Québec. In today's report, Rockstone presents recent publications on Commerce and the rare earth space.
Today's news shows that fluorite (industrially known as "fluorspar", and chemically as "CaF2") as a by-product from the Ashram REE Deposit has the potential to either increase operating margins or lower operating costs as Commerce could do a trading deal with someone, e.g. supplying fluorspar to a company from which Commerce would be buying sulfuric acid.
When Commerce achieved a 42% TREO mineral concentrate at 76% recovery (October 19, 2015), it also resulted in a fluorspar concentrate with a grade of ~75% CaF2 ("met-grade", i.e. metallurgical grade) at 80% recovery. This information has not been published until today. Commerce also disclosed today to be in "dialogue with several interested parties in terms of fluorspar offtake and is in the process of advancing those discussions, as well as working towards the production of samples for evaluation." Excerpts from today's news "Commerce Resources Corp. Advances By-Product Potential for the Ashram Rare Earth Deposit":
Commerce Resources Corp. is pleased to announce encouraging developments in the evaluation of potential fluorspar by-product for the Company's 100% owned Ashram Rare Earth Deposit.
The Company first reported by-product potential in 2013 (see news release dated Feb 20th, 2013) with a fluorite concentrate of possible value being produced during the rare earth element (REE) recovery process. Since this time, this work has advanced favourably.
The evaluation of the fluorspar concentrate as a by-product has advanced with the production of more than 50 individual fluorspar concentrates using Ashram's base case beneficiation flowsheet, comprised of flotation, leaching, and magnetic separation. The fluorspar is concentrated along with the rare earth minerals through the beneficiation flowsheet until the final stage of processing, where they are separated into two distinct concentrates; a fluorspar concentrate, and a rare earth mineral concentrate. A simplified illustration of this flowsheet is below.
One of the best overall rare earth mineral concentrates achieved to date (42% TREO at 76% recovery, see news release dated October 19, 2015) also resulted in a fluorspar concentrate with a grade [1] of ~75% CaF2 at 80% recovery as the final tails product of the rare earth mineral beneficiation process. Of the fluorspar concentrates produced to date, the average CaF2 grade is ~75% to a peak of 94%, indicating metallurgical-grade (met-grade) fluorspar with advantages that include:
1. Potentially saleable as met-grade fluorspar without further processing
2. No additional cost to produce as the met-grade fluorspar is the final tails product of the primary REE recovery process
3. No negative impact on REE flowsheet or recoveries
4. Potential for a reduced volume of tailings, and thus, size of tailings facility, if the fluorspar is confirmed to be saleable by-product

In addition, a test program is being designed to evaluate the potential for upgrading the met-grade fluorspar concentrate to acid-grade, with testwork anticipated to begin shortly.
The Company has engaged in dialogue with several interested parties in terms of fluorspar offtake and is in the process of advancing those discussions, as well as working towards the production of samples for evaluation.
The Ashram Project's potential contribution to the fluorspar market will be evaluated as part of the ongoing Pre-feasibility Study (PFS). Although test programs to date have yielded encouraging results for this potential by-product, there is no certainty of its inclusion into the Ashram Project's ongoing PFS.
With respect to the ongoing PFS, the results of the programs described in this news release will be incorporated, along with other necessary technical data including geological and engineering studies, into the PFS with costs and benefits to be described in more detail therein.
Fluorspar Market
Approximately two-thirds of the fluorspar market is acid-grade, which is primarily used in the production of aluminum and in the manufacture of hydrofluoric acid. The remaining one-third of the market is dominated by met-grade which is primarily used as flux in steel making to lower melting temperature and remove impurities. China, and to a lesser extent Mexico, dominate global fluorspar production which is estimated by the USGS to be approximately 6.9 million tonnes per annum (2014).
[1] Fluorite (CAF2) is calculated based on fluorine analysis, using a conversion factor of 2.055, as mineralogical work concludes fluorite is the dominant and only material source of fluorine at the Ashram Deposit.
About the Ashram REE Deposit
The Ashram Rare Earth Element (REE) Deposit is located in Nunavik, north-eastern Quebec. The Deposit has a measured resource of 1.6 million tonnes (Mt) at 1.77% TREO, an indicated resource of 27.7 Mt at 1.90% TREO, and an inferred resource of 219.8 Mt at 1.88% TREO. Mineral resources are not mineral reserves as they do not have demonstrated economic viability. The REEs at Ashram occur primarily in the mineral monazite and to a lesser extent in bastnaesite and xenotime. These minerals dominate the currently known commercial extraction processes for rare earths. The Ashram Deposit mineralization has an REE distribution with enrichment in the critical and magnet feed REEs (Nd, Pr, Eu, Tb, Dy, and Y). A Preliminary Economic Assessment (PEA) was completed by SGS-Geostat of Montreal (Blainville) with an effective date of July 5, 2012 (revised date of January 7, 2015). The PEA is based on a 4,000 tonne per day open-pit operation with an initial 25-year mine life, a pre-tax Net Present Value (NPV) of $2.32 billion at a 10% discount rate, a pre-tax/pre-finance Internal Rate of Return (IRR) of 44%, and a pre-tax/pre-finance payback period of 2.25 years.


---

Infrastructure for the 21st Century: Building A Non-Chinese Rare Earth Supply Chain
Chris Berry recently published a research report with above title, which is available here as a PDF in English and here as a PDF in German.
---
Commerce Resources: Making Sense of Rare Earth Elements
By Barry Muir for the Resource World Magazine (February/March Edition, page 18f)

From left to right, Peter Duncan, Chief Pilot for Nunavik Rotors (helicopter company based out of Kuujjuaq), Chris Grove, President Commerce Resources, Patrick Muzzi, Director, Société du Plan Nord, Jerome Nadeau, Project Manager, Investissement Québec, Denis Williams, Director General, Investissement Québec, Darren Smith, Ashram Project Manager, Alain Dorval, Manager, Mining and Mineral Processing, Norda Stelo (formerly Roche Ltd), and Chris Berry, House Mountain Partners/ Zimtu Capital Corp. The group is standing in front of the original outcrop that was sampled in 2009. Photo courtesy Commerce Resources Corp.
We've been mining gold, silver and base metals for centuries while commercial markets for most rare earth elements (REEs) have arisen in only the past 50 years. Typically used in small amounts, REEs allow magnetic, electrical and chemical processes to occur at significantly lower energy levels resulting in increased efficiency and smaller scale products. They have become a vital component in mobile electronics, electric vehicles and other products in the shift to energy efficiency.
The current overall market for REEs is less than 200,000 tonnes of total rare earth oxides (TREO) per year with 97% of all production coming from China. The Chinese Ministry of Land and Resources recently suspended applications for new mining and exploration projects, with exception to its larger producers, for rare earth elements over the next three years in an effort to consolidate the rare earths sector in China. Prices for REEs declined in 2015 along with other resources but with the recent constraints and new technological innovation, a focus on REEs is expected to continue for the foreseeable future.
Rare earth elements, 16 in total, are perhaps not as rare as the name implies. Cerium, the most abundant REE, comprises more of the earth's crust than copper or lead. Many REEs are more common than tin and molybdenum and all are more common than silver or mercury.
However, only those REE deposits found to be significantly economic are dependent on the host rock being carbonatites and on its mineralogy – in particular, those deposits containing the minerals monazite, bastnasite, and xenotime that are all easily broken down. All three minerals are found on Commerce Resource's [CCE-TSXV; CMRZF-OTXQX; D7H-FSE] Ashram rare earth deposit in mining friendly northern Québec.
Commerce discovered the Ashram deposit, that sits within its Eldor carbonatite property in 2009, after airborne geophysics and soil sampling led them to a mineralized outcrop with over 3% TREO. In 2010, drilling returned 1.72% TREO over 215.30 metres in hole EC10-027, now referred to as the discovery hole. The Ashram deposit has since had over $30 million spent on exploration and deposit definition, giving it the potential to be one of the largest and longest operating rare earth element producers in the world. In May 2012, the company reported robust economics from a Preliminary Economic Assessment (PEA) for Ashram. The study showed a strong positive cash flow from a 4,000 tonne per day open-pit operation with a 25-year mine life, a pre-tax and prefinance Net Present Value (NPV) of $2.32 billion and an Internal Rate of Return (IRR) of 44% with a payback period of 2.25 years. Using a cut-off grade of 1.25% TREO, the estimate provided a measured resource of 1.6 million tonnes at 1.77%, an indicated resource of 28 million tonnes at 1.90% and an inferred resource of 219.8 million tonnes averaging 1.88% TREO.
What separates Commerce's Ashram deposit from various other advanced stage REE deposits is its simple mineralogy combined with high-grade mineral concentrates of greater than 40% TREO. Mineralization starts at surface with minimal overburden allowing for a low cost open pit operation. The deposit contains high demand, short supply REEs in significant amounts with a balanced distribution of the critical and magnet feed REEs. The Ashram Project has capital expenditures (CAPEX) of $773 million. However, that is relatively low considering the 2.25-year payback and the +25-year mine life. Perhaps most important, are its low operating expenditures (OPEX) of $95.20/tonne of ore treated.
After all, like any mine, it's not how much ore can be produced but how much profit can be generated from each tonne of ore mined. In this, the Ashram deposit scores high along with its favorable jurisdiction and experienced management team.
Commerce has been cognizant of changes in the market over the past few years. While a Pre-feasibility study has been ongoing, the company is exploring different mining scenarios along with economic trade-off studies to adjust to an ever-changing market landscape. For example, by reducing annual production suggested in their existing PEA, they could reduce CAPEX allowing the company to move to production quicker. Also, by dividing the property into North and South project areas, the hydrometallurgical processing would be more costeffective if located closer to existing infrastructure rather than being processed at the mine site. Commerce is comfortable with the cost of building a haul road to transport mineral concentrate from the mine north to the coast or south to existing infrastructure as part of the expenditures laid out in the existing PEA. They are also confident that Québec's Plan Nord will include much of the highly prospective surrounding area in their infrastructure development plans.
Ten different metallurgical studies have now been completed with each one more impressive than the last. Most recently, REE recoveries have increased from 71% to 76% while maintaining a grade of greater than 40% TREO. In addition, a secondary leach has been eliminated simplifying the leaching process. With strong metallurgical results and all the data for a pre-feasibility study in place, Commerce has begun producing samples from their pilot plant for potential clients throughout the world.
There is much about rare earth deposits that makes analysis more difficult than for other mineral type deposits. The simple fact that so few producing REE mines exist in the world indicates a shortage of expertise in the mining of up to 16 different rare earth elements – each with their own supply and demand fundamentals. To date, the Ashram deposit has developed on its tangible data benefiting from a well-balanced combination of simple mineralogy, tonnage, grade, REE distribution, economics, jurisdiction, and infrastructure putting it at the forefront of newly emerging REE deposits throughout the globe. ■
The above article was written by Barry Muir who is a registered Investment Adviser with Haywood Securities Inc. a Canadian based independent, full‐service investment firm and member of the Canadian Investor Protection Fund. The article is for informational purposes only and is neither a solicitation for the purchase of securities nor an offer of securities. Readers of the article are expressly cautioned to seek the advice of a registered investment advisor and other professional advisors, as applicable, regarding the appropriateness of investing in any securities or any investment strategies, including those discussed above. The information contained in the reports have been compiled from sources Haywood believes are reliable; however, Haywood makes no guarantee, representation or warranty, expressed or implied, as to such information's accuracy or completeness. The views expressed are those of the author and not necessarily Haywood Securities Inc. All opinions and estimates contained in the reports are based on assumptions the author believes to be reasonable as of the dates of the reports but are subject to change without notice. Either the author, Haywood Securities Inc. or its employees may from time to time hold or transact in the securities mentioned. Barry can be reached at (604) 697-6172 or bmuir@haywood.com


---

To Compete With China: Mineralogy's The Key To Commerce Resources' Goal of Low-Cost Rare Earths Production
By Greg Klein on February 17, 2016 for ResourceClips.com
As Molycorp's bankruptcy leaves Lynas Corp the sole producer outside China, Core Consultants reportedly told Mining Indaba '16 to expect more rare earth project closures. But it's against this background of lower prices and higher supply that Commerce Resources continues to raise money and move its Ashram deposit in northern Quebec towards pre-feasibility. Clearly something distinguishes this project, which president Chris Grove is determined to develop into a low-cost producer competitive with China. That has potential customers interested. The key to low costs is the deposit's relatively simple mineralogy, Grove maintains, a crucial point that sets Ashram apart from other projects. "Rare earths can be hosted by up to about 200 different minerals and several rock types, but very few have ever been commercially processed," he explains.
"Commerce realized early that we must focus on carbonatite rocks with rare earths hosted in the minerals monazite, bastnasite and xenotime, which
have proven processing. Almost no one else did that."
But even compared to other carbonatite-hosted deposits, "our gangue material is just more amenable to separation," he emphasizes. "With REE deposits, if your grade is 2% or 3% then the rest is waste rock or gangue, and the very composition of this gangue may mean a make-or-break situation, if you can't economically separate the gangue from the REEs."
But for Commerce, metallurgical studies look positive for economical separation. That's crucial to achieving low-cost processing from a project that also features high grades, a shallow deposit and a distribution of five critical rare earth elements. As a result, several major companies have asked Commerce for concentrate samples.
In October the company announced its highest-grade concentrate so far, which Commerce said compares favourably with hard-rock operations globally. Metallurgical tests by Hazen Research in Colorado produced a concentrate of total rare earth oxides grading 48.9%, with overall recovery around 63%. Additional processing achieved 45.7% TREO with about 71% recovery. Two weeks later the team boosted recovery to 76%, maintaining a high grade of 42% TREO.
Additional flowsheet simplification came in February, when the mini-pilot plant confirmed that one of two leaching steps could be eliminated, suggesting considerable cost-cutting potential while maintaining efficiency.
Tests show another potential advantage in fluorite, which the lab is currently examining as a byproduct. "There's a significant market for fluorite byproducts that didn't factor into our PEA at all," Grove points out. "So we'll be very interested to see how this might improve our economics."
But the next big step will be to produce concentrate samples for interested parties. Some of those companies are covered by non-disclosure agreements, Grove says. Others include BASF, Mitsubishi RtM, Innovation Metals, DKK and Solvay.
The samples might be produced by Q2 this year, which could lead to another milestone in the form of a joint venture. "There are several companies interested in creating a vertically integrated, stable supply chain not connected with China," Grove says. Should a JV take place, the partner might fund the remaining pre-feas studies and help direct the project model.
Among possible outcomes could be a reduction in output—and therefore capex—from what was considered in a preliminary economic assessment completed in 2012 and amended last year. The study used a 10% discount rate to estimate a pre-tax net present value of $2.32 billion and a 44% pre-tax internal rate of return. Capex came to $763 million with payback in 2.25 years. Operating costs came to $7.91 per kilo of rare earth oxides in a 4,000-tpd open pit with a 25-year lifespan. Production could be subject to a combined tax rate of about 32.5%.
The study used a 2012 resource with a 1.25% cutoff to show:
measured: 1.59 million tonnes averaging 1.77% total rare earth oxides
indicated: 27.67 million tonnes averaging 1.9% TREO
inferred: 219.8 million tonnes averaging 1.88% TREO
Shallow and at some points beginning at surface, the deposit remains open to the north, south and at depth, also holding expansion potential east and west. Middle and heavy rare earth oxides (MHREO) take up considerable proportions—9.8% of TREO in the measured category, 6.7% in indicated and 6% in inferred. Unique to Ashram, the company states, a zone of intense MHREO enrichment "extends from surface with significant tonnage and grade." The deposit features a strong distribution of the critical elements neodymium, europium, terbium, dysprosium and yttrium.
Infill drilling over the last two years has Grove looking forward to an upgraded resource estimate. "We've been hitting higher grades, we've been hitting lower overburden than what was modelled in the PEA," he says. "We've been hitting higher levels of the middle and heavy rare earths, which is also to our benefit. When we were drilling to find areas to locate dykes, we kept on hitting material."
Part of Commerce's 190-square-kilometre Eldor property, Ashram sits about 130 kilometres south of the community of Kuujjuaq. Quebec's Société du Plan Nord has expressed interest in building a road that could connect Kuujjuaq with the railhead at Schefferville. If built, the road could potentially go by Ashram. Failing that, pre-feas studies are considering a road north to a possible docking facility, taking a shorter route than envisioned by the PEA.
Recognized as a mining-friendly jurisdiction, the province has offered Commerce tax incentives to keep its proposed hydro-metallurgical facility within Quebec, Grove says. Community relations are good, he adds, and ongoing communication remains a priority. The company has hosted meetings and site visits for the Inuit and the Naskapi First Nation. In October Commerce won the e3 Plus Award for responsible exploration from l'Association de l'exploration minière du Québec at Xplor 2015 in Montreal.
In southeastern British Columbia Commerce also holds the Blue River project, where the Upper Fir tantalum-niobium deposit reached PEA in 2011 and a resource update in 2013. Grove sees JV potential as manufacturers become increasingly concerned about ethical sources of supply. "The majority of tantalum produced now is probably produced by conflict means," he says. "I know of no one who has gone far enough upstream to be able to determine that the actual production of these minerals is conflict-free. There's no independent verification that stands up to scrutiny."
Getting back to rare earths, Grove says companies outside China aren't the only ones worried about future supply. "When we went there in 2012, we met with all but one of the major producers and processors of rare earth elements. They met with us because they all had concerns about their future supply."
Determined to compete with China on costs, Grove believes Ashram's mineralogy and metallurgy will prove his point even as other projects fail. ■
---
Interview with Chris Grove
In late January 2016 during the Cambridge House Investment Conference in Vancouver, Commerce Resources Corp.'s President, Chris Grove, was interviewed by Investing News Network. He stated that since the downturn of the REE market in 2011, Commerce has raised around $25 million to advance the Ashram Project towards Pre-feasibility and potential joint ventures to finance Ashram into a profitable non-China operation – even at today's low prices. The reasons for continued interest from several directions are explained in this 2 minute video, which can be viewed here or by clicking on the picture on the top.
---
Commerce Resources Confirms Its Single Leach Pilot Plant Yields The Desired Results
By Thibaut Lepouttre on February 11, 2016, for Caesars Report


Commerce Resources (CCE.V) has now confirmed the preliminary bench scale results of the metallurgical leach test work during pilot plant operations, where the ore from the Ashram Project is being tested. This pilot plant was based on a single-leach process, as prior bench scale work strongly indicated steps could be reduced with efficiency maintained, or potentially improved, compared to the double-leach process that was previously piloted.
With the success of the single-leach pilot, the double-leach process has now been replaced and the overall process made more cost efficient. Although not achieved from this pilot, Commerce also indicated that the single-leach process may allow for an increase in overall recovery, which would further bolster the process.
For now, we're glad the single leach process is working on the pilot plant level, and we're looking forward to see Commerce trying to improve the current results. Keep in mind the bench scale test work has indicated the recovery rate could be increased to 76% (up from the current recovery rate of 71%) and this would be another important step to boost the economics of the Ashram Project.
We also briefly discussed these results with Darren L. Smith, Ashram's Project Manager
Darren, a recovery rate of 71% is obviously pretty good, but in October, Commerce released a statement saying it has been able to reach a recovery rate of 76. What caused the difference between the 76% result of the bench scale tests and the pilot plant test?
"Well, there were several reasons. One was a slight overdose of a reagent during a precipitation step that led to the loss of some REEs in the leach process (this is why we said we had to implement a minor operational adjustment). So basically, we will need an even lower amount of reagents, and that actually is a positive thing.
Secondly, the incomplete washing of the residue prior to the magnetic separation phase could also have been a contributing factor. Both of these issues are very minor and easy to correct. The main reason is that these were just the initial scale up pilots and only a couple residues were tested through the magnetic separation stage to confirm residue quality. The primary goal was demonstrating we could produce residues using a simpler, more easily controlled process that can be upgraded to those comparable that were produced on the bench scale. So our goal was to achieve a concentrate containing >40% TREO @ >70% overall recovery. Based on these first two mini-pilots, we are very confident that overall recoveries may improve to a minimum 76% (as proven during the bench scale tests)
and further from there." ■
---
Commerce Resources Sees Cost Cuts For High-Grade Rare Earth Concentrates
By Greg Klein on February 9, 2016 for ResourceClips.com

Project manager Darren Smith onsite in northern Quebec.
A simplified flowsheet has reduced the number of steps to process rare earths from Commerce Resources' (TSXV:CCE) Ashram deposit in Quebec. Announced February 9, the results point to lowered costs while maintaining efficiency.
Metallurgical tests continue to advance the project towards pre-feasibility.
Last year's pilot plant tests used a double-leach process that achieved over 99% stage recovery with complete carbonate removal. But the results also suggested the process could be simplified by using only a single leach. That's now been confirmed, as the single-leach mini-pilot plant achieved similar efficiency with fewer stages while operating at a larger scale.
"For the single-leach pilot, both batch and continuous methods were tested, using flotation concentrate produced from piloting as feed, with a total throughput of approximately 50 kilograms and 11 kilograms respectively," the company stated. "Stage recovery exceeded 98% for both methods and is expected to exceed 99% after a minor operational adjustment is incorporated."
Leach residues went through magnetic separation to confirm the residue quality, producing high-grade mineral concentrates. The batch method produced 41% total rare earth oxides at 71% recovery, while the continuous method reached 43% TREO at 71% recovery.
Tests also indicated overall recoveries might surpass those of the double-leach process. Follow-up tests will further evaluate that finding.
"The validation of the single-leach process at the pilot scale is an advancement that allows for basic cost reductions as fewer process steps are now required, and fewer reagents are now consumed, while process efficiency is maintained," commented president Chris Grove.
Ashram's flowsheet includes three stages of processing "to produce among the highest-grade mineral concentrates in the rare earth development space," Commerce stated.
The company intends to follow last year's work on the flotation and HCl leach stages with a magnetic separation pilot plant and further downstream processing this year.
Pre-feas work has also included infill drilling for a resource update, with high-grade, near-surface assays.
A new infrastructure model, meanwhile, points to further potential cost reductions.
In October Commerce won an award for responsible exploration from l'Association de l'exploration minière du Québec.
Last month the company closed the second tranche of a private placement that totalled $1.97 million.
Commerce also holds the Blue River tantalum-niobium deposit in southeastern British Columbia, with a 2011 preliminary economic assessment. ■
---
Commerce Resources – Providing A Viable Source of Rare Earth Elements?
By Thibaut Lepouttre on December 22, 2015, for Caesars Report
Earlier this quarter, we reported on Medallion Resources (MDL.V), a small Vancouver-based company that is aiming to recover rare earth elements (REEs) from a mineral source called monazite.
This is quite a 'special' and a potentially relatively low-risk method to indeed be able to produce REEs from a mineral which is considered to be waste by many beach sand operators.
In this report we would like to present you another potential opportunity in the REE-sector, Commerce Resources (CCE.V), a company belonging to the Zimtu Capital (ZC.TO) umbrella group.
When a story sounds too good to be true, it usually is, but we have to confess that after reviewing some materials and spending several hours with Chris Grove, Commerce's president, we indeed agree this might be one of the very few viable REE-plays as the current basket price is still (much) higher than the expected production cost per kilo of product.
View this Caesars Report as a PDF
The Ashram REE project – a brief background
Commerce's Ashram Project is located in Québec's Nunavik Territory and is approximately 130 kilometers south of Kuujjuaq. The remote area where the project is located could be seen as a challenge as there isn't a labour pool directly available around the proposed mine site, but that shouldn't be an issue down the road as a lot of mines in the wider region have operated successfully for years (e.g. Glencore's Raglan mine), flying their staff in and out on regular intervals. The Preliminary Economic Assessment at Ashram does include the cost of a camp and an airstrip, so the location issues are definitely being dealt with.
Despite the remoteness, we consider the fact the project is located in Québec as a huge plus as it remains one of the most mining-friendly regions in the world. Further, being in the Nunavik Territory, the project is located in an area under aboriginal treaty with clear mechanisms in place for consultation and resource management.
Additionally, the further development of the Plan Nord could bring a lot of advantages to the Ashram Project as the government of Québec still wants to invest heavily in infrastructure to unlock the mineral potential of the northern part of Québec. This would be great news for Commerce as a new access road connecting the property to the road/rail network in the south and through to Kuujjuaq in the north would result in huge cost savings further down the road (pun intended).
Back in 2007 and 2008, Commerce considered Ashram to be primarily a Niobium-Tantalum project and it was only during an exploration program in 2009 that REE mineralization of significance was discovered outcropping at surface. The company followed up on these first results and soon discovered the average grade of the samples in the Ashram area looked very promising with in excess of 50% of the samples returning a grade of in excess of 1% TREO. After this surface mineralization was discovered, Commerce pushed through with a drill program which indeed confirmed the existence of wide-spread REE mineralization and in the first quarter of 2011, the company was able to release a maiden resource estimate of 117 million tonnes of inferred resource at an average grade of 1.74% TREO (using a 1.25% cut-off grade).
Additional exploration activities revealed there was a higher-value zone within the existing resource envelope which contained an enrichment in the middle and heavy rare earth oxides, as well as neodymium. This zone is also expected to form the majority of the starter-pit.
The total deposit size almost doubled with a resource updated in 2012 with a measured resource of 1.6 million tonnes (Mt) at 1.77% TREO, indicated resource of 28 Mt at 1.90% TREO, and an inferred resource of 220 Mt at 1.88% TREO, at a 1.25% cut-off grade. And there's much more to be found at Ashram, as the mineralization remains open to the north and south as well as at depth (despite having reached a total depth of 600 metres).
The company swiftly moved to complete a PEA which was completed in 2012. This gave the market a first indication of how valuable this project could be. The project has continued to advance, albeit slowed by the recent market environment, and has improved much many aspects of the project. Despite the lower REE prices, Ashram appears to remain profitable, anchored by a projected industry-low cost of production.
Why does this project stand a chance, compared to all these other REE hopefuls?
As we all know, the current REE prices are low. Terribly low. This means that a lot of projects with either a low average grade or a difficult rock type will have a lot of difficulties to prove their viability to the market, and it's uncertain those companies will obtain any funding as long as the REE prices are where they are right now. Just three years ago, Commerce was still focusing on two projects, the Upper Fir Tantalum and Niobium Project in British Columbia and the Ashram REE Project in Québec. The Tantalum project has taken a back seat as Commerce has made considerable progress at the Ashram Project which now seems to be shaping up as an interesting and promising REE project in a mining-friendly region.
One aspect that sets Ashram apart from many of its peers is its sheer size. It is a mammoth deposit with an initial mine life of 25 years, but there are enough resources already delineated to potentially sustain an operation for several hundred years. As many projects struggle to define resources, this is a distinct advantage for Ashram and frees up capital for other value added development work.
No other project in development exists of comparable resource size that is also host to simple mineralogy, and is amenable to standard processing techniques. Coupled with a leading global jurisdiction for mine development and the Ashram Deposit quickly appears as a standout for development.
The PEA is outdated, and applying today's parameters would improve the quality of the project
The 2015 PEA was very interesting to read, but now, several years after the report has been released, it's already obvious a major upgrade will be needed to incorporate the updated parameters.
A. A new starter pit
We think an updated PEA, or Prefeasibility Study (PFS), will be able to incorporate an even more fine-tuned production scenario that is completely zoomed in and focused on the MHREO-zone, extending from surface. Even though the strip ratio in the original PEA was just 0.19 (which indeed is extremely low), it's not unlikely this ratio could be reduced even further. Additionally, the 2012 PEA used a pit slope of 45 degrees, and this might be fine-tuned even further as SGS just used the standard of 45 degrees based on a study from 1974.
B. Updating the currency effects
The original PEA used an USD/CAD exchange rate of 1, whereas the current ratio is more like 1.38 which means the expenses in Canadian Dollar have suddenly become quite a lot cheaper!
The strong USD relative to the CAD is a large benefit to a project like Ashram that will have its operating expenditures (OPEX) in CAD but its saleable products sold in USD.
Couple this with low oil prices (reduces OPEX) and lower steel prices (reduces CAPEX), and the project ends up with several significant tailwinds for its PFS that were not present for its PEA.
It is often said the most expensive place in the world to build a mine is the United States, primarily due to the strength of the USD.
However, just north of the border in Canada, it often noted as one of the best, if not the best, places globally to build a mine; that being Quebec, which is exactly where Ashram is located. Let's have a look at how the REE prices evolved in US Dollar: (see below table)
As you can see, the basket price for the REE mix that will be produced in the first five years of the mine life at Ashram has fallen by 58% in USD-terms. However, thanks to the cheaper Canadian Dollar, the lower REE prices will partly be compensated by the weaker CAD.
Keep in mind the calculated basket price is the gross value per kilo, and potential buyers of the concentrate will obviously base the paid price taking the additional separating expenses into consideration. There's no fixed cost per kilo as it mainly depends on the different elements in the REE basket, but in Commerce's case a discount of 25% is an acceptable expectation.
C. Removing the cerium
A huge kicker for the economics at Ashram could be the removal of the cerium before sending it off to a separator. Due to the high weighing of the Cerium in the concentrate and the current ultra-low Cerium price (cerium is trading at just $2 per kilo), any REE processor will penalize Commerce for having the Cerium in its concentrate (as the extraction cost will be higher than the revenue after the solvent extraction phase). Commerce is evaluating the benefits of this process, but the final decision about what to do with the Cerium (and Lanthanum) will depend on the requirements of the market.
The simplest way to recover the cerium is through oxidation, but Commerce Resources is also thinking about installing a small solvent extraction circuit to remove both the Cerium and Lanthanum in one 'sweep' and separate the Ce and La from each other to get to two saleable concentrates.
In such a case, approximately 97% of the Ce and La would be removed from the concentrate and the value of the remaining concentrate would suddenly sky-rocket as in the first five years of the mine life, the (important) praseodymium and neodymium combined would represent almost two-thirds of the Cerium and Lanthanum-depleted concentrate.).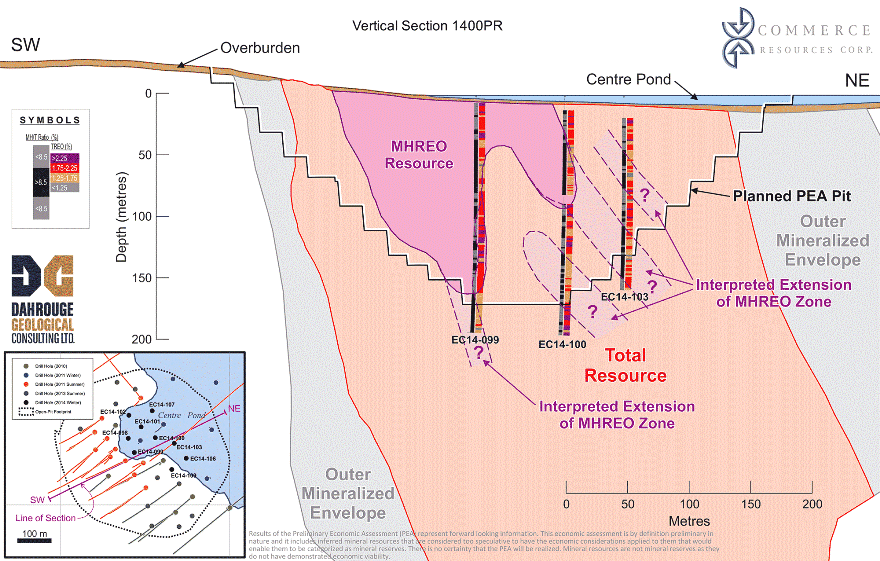 D. An improved flow sheet and a higher REE-recovery
Since the first PEA has been published, Commerce Resources has worked to fine-tune the process and a recent update could be a pivotal point for the company. Not only was the average recovery rate boosted to 76% through to the final mineral concentrate (compared to 66.5% used in the PEA), the company has now also used considerably less steps in its flow sheet which will further reduce the initial capital expenditures and the operating expenditures (on top of the lower opex/kg due to the higher recovery rates). This means the initial capex of C$763M and the operating expenses of C$7.91/kg could be reduced even further. Also keep in mind the C$763M capex was also based on a parity in the US Dollar and CAD Dollar. Keeping the CAD-amount at the same level, the capex in USD has actually fallen to less than $600M. This amount also includes the sustaining capex as well as a 25% contingency, which is comfortably high.
On top of the better recovery rates and more streamlined process (single leach vs double leach), it will also be a viable option to reduce the daily throughput from 4,000 tonnes per day to, say, 2,000-2,500 tonnes per day. This will allow Commerce to reduce the initial capex even further whilst it would still be producing a significant quantity of REO per year.
Additionally, the value of the Cerium- and Lanthanum-depleted concentrate would be much higher than the current basket price. Of course, the amount of concentrate that would be produced will be much lower once you remove 97% of the cerium and lanthanum, but the total revenue (the (net) concentrate revenue+ cerium carbonate revenue + lanthanum carbonate revenue) should be higher than the current basket price as Commerce should be able to remove the cerium and lanthanum at a lower processing cost compared to the larger separators. Of course, this is just a theoretical thought from our side, and we will have to wait for the company's final feasibility study before seeing which decision Commerce will make.
A recent marketing trip to Asia seemed to have been successful
Removing the Cerium from the concentrate before shipping it to the separator could have an additional benefit. Not only would the average price of the concentrate increase (as the Cerium content, which would very likely be penalized, is approximately 46%), Commerce would also be able to meet a certain demand from a potential customer.
President Chris Grove has indicated there's Asian demand for a cerium product (and lanthanum product as well!) which is quite surprising given the current oversupply of cerium. However, security of supply (i.e. non-Chinese supply) is still a concern to many end-users. If the interest in the cerium product turns out to be correct and credible, then it would make even more sense to remove the cerium from the concentrate and ship it as an independent and different product to a prospective Asian buyer. Cerium is often treated as waste by juniors, but there is a market demand in certain product forms.
Removing the Cerium could be pretty straightforward through a process of oxidation and precipitation. But as explained earlier in this report, the Cerium and Lanthanum could be removed by adding a solvent extraction circuit to the processing plant which could remove up to 97% of the Cerium and Lanthanum from the final concentrate at relatively low cost. Not only would this increase the value of the remaining concentrate, it would also be easier for Commerce to fulfil the needs of some Cerium- and Lanthanum-hungry customers.
Conclusion
There have been quite a few self-proclaimed 'leaders in the REE space' in the past few years but once you start to insert the current REE prices in the production baskets, those 'economics' are crumbling.
And that's the difference between so many other REE company's and Commerce Resources. Commerce resources is projected to be one of the lowest-cost producers globally and this is low a miner survives a commodity cycle.
Even at today's REE prices, the Ashram Deposit's net basket price (so after applying the discount that will be used by the REE separators) is nearly double its projected operating costs.
One of the most important catalysts for Commerce Resources will be to complete additional metallurgical studies as well as trying to figure out what it should do with the Cerium and Lanthanum in the concentrate. If the majority of those two elements could indeed be removed, the value of the price basket would increase considerably.
Rare Earth Elements are unloved right now as there have been so many Canadian companies that claimed they would be the next low-cost REE producer, but Commerce Resources seems to be in the pole position to indeed effectively become a low-cost REE mining company. ■
Disclaimer: The author holds a long position in Commerce Resources. Zimtu Capital is a sponsor of the website. Please read the disclaimer.
---
---
"Rare earths engineering consultants TRU Group Inc says China-controlled pricing is self-destructive and creates hurdles for western RE metal projects. Average rare earth prices have levelled off at an estimated $18,500 per t for 2014 following the steep declines in recent years. Prices have stabilized at a level below the average for 2010 before the crisis in supply began when China unexpectedly restricted exports. The failed attempts by Chinese suppliers to halt the decline in REE prices was long predicted by TRU" say CEO Edward R Anderson. "Rare earth metal prices are so low now that profit margins even in China may be unattractive". Strategic rare earths are used in high-tech magnets for electric vehicles and China produces over ninety per cent of global requirements. Most western REE newcomers have exhausted their cash and have been forced into hibernation: They need more sensible operational business models to attract investors.
"Trouble is that the REE juniors focus too much on geology when the real technical issues lie in highly specialized REE chemical production. Design of operations in a fragmented industry is complex but crucial to success. Unless there is a strategic change in direction I doubt whether we will see the capacity expansion that was expected" says Anderson." (TRU Group Inc.)
---
Company Details
Commerce Resources Corp.
#1450 - 789 West Pender Street
Vancouver, BC, Canada V6C 1H2
Phone: +1 604 484 2700
Email: cgrove@commerceresources.com
www.commerceresources.com
Shares Issued & Outstanding: 234,409,864
Canadian Symbol (TSX.V): CCE
Current Price: $0.075 CAD (Feb. 29, 2016)
Market Capitalization: $18 million CAD
German Symbol / WKN: D7H / A0J2Q3
Current Price: €0.045 EUR (Mar. 1, 2016)
Market Capitalization: €11 million EUR
Technical Analysis:
Since 2001: http://schrts.co/wR62L5
Since 11/2013: http://schrts.co/kAtslu
---
Analyst Coverage

Research #14 "Q&A Session About My Most Recent Article Shedding Light onto the REE Playing Field"
Research #13 "Shedding Light onto the Rare Earth Playing Field"
Research #12 "Key Milestone Achieved from Ashram's Pilot Plant Operations"
Research #11 "Rumble in the REE Jungle: Molycorp vs. Commerce Resources – The Mountain Pass Bubble and the Ashram Advantage"
Research #10 "Interview with Darren L. Smith and Chris Grove while the Graveyard of REE Projects Gets Crowded"
Research #9 "The REE Basket Price Deception & the Clarity of OPEX"
Research #8 "A Fundamental Economic Factor in the Rare Earth Space: ACID"
Research #7 "The Rare Earth Mine-to-Market Strategy & the Underlying Motives"
Research #6 "What Does the REE Market Urgently Need? (Besides Economic Sense)"
Research #5 "Putting in Last Pieces Brings Fortunate Surprises"
Research #4 "Ashram – The Next Battle in the REE Space between China & ROW?"
Research #3 "Rare Earth Deposits: A Simple Means of Comparative Evaluation"
Research #2 "Knocking Out Misleading Statements in the Rare Earth Space"
Research #1 "The Knock-Out Criteria for Rare Earth Element Deposits: Cutting the Wheat from the Chaff"
Disclaimer: Please read the full disclaimer within the full research report as a PDF (here) as fundamental risks and conflicts of interest exist.