Free gold in quartz was not uncommon in the past producing, historically high-grade Kenville Gold Mine, formerly known as the Granite-Poorman Mine, British Columbia's first underground lode gold mine which was discovered and staked in 1888, and mined intermittently until the 1950s with a recorded production totaling 65,246 ounces of gold (averaging 9.07 g/t) from 180,740 tonnes processed. (Data; Picture)
Last Friday, Ximen Mining Corp. announced to have entered into an option agreement to purchase the 4% gross metal royalty over the Kenville Gold Mine Property for a total consideration of $1.7 million CAD, of which $1.5 million is to be paid in cash and $200,000 in common shares of Ximen.
This agreement not only shows the negotiation skills of Ximen's management but also its determination to advance the Kenville Gold Mine Project to the next level. As a gross metal royalty entitles the holder to a percentage of the revenue generated from metal sales, a mine operator prefers no royalty burden owed to third-parties.
Any mining project becomes less attractive (i.e. less profitable) the higher the royalty owed to a third-party. While corporate taxes commonly apply only to profits, a gross metal royalty is typically payable whether or not the mine is profitable, as such it is reasonable for the operator to want to discharge the burden of the royalty at some point.
For Ximen to buy the entire, relatively high 4% gross metal royalty at this stage may eventually prove up as a wise move (i.e. bargain) as negotiations could make a buy-out far more expensive in the future.

The refurbished 257 Level of the past producing Kenville Gold Mine. "Between 2007 and 2008, 13,000 meters of diamond drilling was conducted that targeted previously un-tested areas southwest of the historic mine, and detailed sampling was conducted within the mine on the 257 Level. There are six other historical levels within the mine footprint; only this level was rehabilitated and remains open and accessible. Based on the mine sampling and drill hole information available at the time, new zones of gold mineralization were identified, and mineral resources were estimated (see table below)..." (Source: Ximen Mining)

A qualified person has not done sufficient work to classify the historic estimate as current mineral resources or mineral reserves. As such the issuer, Ximen Mining Corp., is not treating this historical estimate as current mineral resources or mineral reserves. Ximen considers this historic mineral resource estimate to be relevant and reliable in that it was based upon the results of underground sampling and diamond drill information available at the time. The historic estimate uses the categories of Measured, Indicated and Inferred mineral resources as defined by the Canadian Institute of Mining, Metallurgy and Petroleum. Measured and Indicated Resources are based on projections of mineralized veins exposed on the 257 Level. Inferred Resources in the historical estimate are based on assumed continuity beyond measured and (or) indicated resources. The inferred mineral resources are based on historical drill and assay information verified by underground channel samples collected in 2007/8. The resource tonnages were estimated using an assumed specific gravity. A cut-off grade of 1.1 grams per tonne was used. No allowance for dilution was included based on an anticipated "resue" mining method, which would separate mineralized material from waste rock. (Source: Ximen Mining)
As recently announced on April 16, a detailed compilation of exploration and historic mining information in regards to the Kenville Project is planned, "aimed at defining targets for possible trial mining" as Ximen stated.
This statement came just a day after Ximen announced the addition of Mr. Lloyd Penner to the team, "whom will be focusing on assisting the company with its future plans and aspirations towards developing its mining activities on its various assets", Ximen stated. "His well-rounded skill set includes planning, project organization, surface infrastructure setup, and conventional underground mining... Mr. Penner's knowledge and experience with the Kenville Gold Mine (having spent several years assessing it) and with other high grade vein properties like it makes him an integral component in the success of this venture as well should the company complete on the opportunity to acquire the Kenville Gold Mine." (See more details on his +30 year career in the exploration, development, and mining of gold deposits in British Columbia, western Canada and Africa).
This key appointment of a highly experienced mine manager, knowing well the Kenville Gold Mine Property, came just a week after Ximen announced its focus on acquiring Kenville.
These 3 recent news-releases alone indicate that Ximen could be quite eager to advance Kenville fast.
When Ximen announced its plan of acquiring Kenville, the company not only published the 2009 resource estimate (now considered historic / non-compliant with NI 43-101) but also stated its "aim of completing a new resource estimate that includes the more recent diamond drill results" as significant drilling was completed between 2009 and 2012 (after that resource estimate was made). "At least 4 new veins were identified with potential strike lengths of over 700 metres." Apparently, Mr. Penner played a significant role in some of these discoveries as he was Manager of Exploration and Development starting from 2010.
In mid-2010, the operator (Anglo Swiss Resources Inc.) touted that the Kenville Gold Mine was "in production-ready state", but the concurrent beginning of a bear market in gold appears to have put an end to that plan.
In 2013, when the bear market in gold was in full force, Anglo Swiss announced to have agreed to sell its Kenville Gold Mine Property for $10 million to a private Alberta based company. (Note that Ximen announced recently on April 8 to purchase "certain mining equipment located in Del Bonita, Alberta".)
One of the reasons why Anglo Swiss was not successful in putting Kenville back into operation was that there is no adequate mill and tailings facility on the property. Building a new processing facility from scratch is not only highly capital intensive (with financings for such difficult to obtain during periods of weak metal prices), but sometimes also impossible to permit even in mining-friendly jurisdictions.
As the Kenville underground mine property is located on the slope of a mountain, a mill and tailings pond would likely be impossible to get permitted as the risk of a tailings failure, flowing downhill into the Kootenay river, might be considered too high (the environmental consequences would be devastating as the 781 km long Kootenay River is the largest North American river that empties into the Pacific Ocean). Even the alternative of dry stack tailings is probably unfeasible/unpermissable.
Full size / Looking at the Kootenay river from the Kenville Gold Mine Property. (Source: Anglo Swiss Resources Inc., 2008)
Frankly put: The Kenville Gold Mine has everything to lift your heart higher than the clouds – with the exception of a processing plant and tailings pond. This missing key might have been the main reason why the previous operator could not succeed into production.
With gold prices on the rise again, the time could be ripe now for Ximen to advance Kenville to the next level, especially if an opportunity with an existing processing facility in southern British Columbia evolves. In this respect, note that Golden Dawn Minerals Inc. (TSX.V: GOM) announced recently on April 14 that Chris Anderson has agreed to accept an appointment as the company's Interim CEO and Director. Mr. Anderson also serves as President and CEO of Ximen.
Golden Dawn's flagship asset is the Greenwood Mill and Tailings Facility near the city of Greenwood in southern British Columbia. When you connect the dots of the Greenwood Mill and the Kenville Mine on a map, the result is a mere distance of around 150 km on Highway #3 and #3a. That's not a long trucking distance, especially when talking about high-grade gold quartz vein material.

Full size / The Greenwood Mill is a modern processing facility with a nominal daily throughput capacity of 212 t/day (72,000 t/year), upgradable to 424 t/day with the addition of a second primary grinding mill and modifications to existing rougher flotation circuit. The mill's conventional processing can produce a gold gravity concentrate and copper-gold flotation concentrate, both marketable to smelters for immediate cash-flow. The near-by tailings pond, pictured above in the background, has a permitted capacity of 400,000 t.
In case Mr. Anderson is successful in turning Golden Dawn's lights back on, Ximen may get the opportunity of using the Greenwood Mill. It remains to be seen if such a feat can be accomplished.
Mr. Anderson is currently assisting Golden Dawn to restructure its burdensome debts and has the opportunity to earn up to 15.5 million shares of Golden Dawn (in which case he would become its principal shareholder thus having an interest at shareholder value creation). Mr. Anderson is also one of the largest shareholders of Ximen, having increased his equity position to more than 4.3 million shares last year, whereas he also held some 2 million warrants and options (as per December 31, 2018), thus if all exercised, controlling in excess of 6.3 million Ximen shares.
In other words: Chris Anderson now has the reins in his hands to produce happy shareholders of Ximen and Golden Dawn. The Kenville Gold Mine Project, hand in hand with the Greenwood Mill and Tailings Facility, appear to be the keys to do so, whereas it should be emphasized that Ximen currently also owns several other precious and base metals projects in southern British Columbia, where work programs have recently been expanded, whereas drilling at the Gold Drop Project resumed lately to find more high-grade gold, silver and tellurium near surface at the C.O.D. Vein, located just a few kilometers from Golden Dawn's Greenwood Mill. Ximen has optioned Gold Drop to GGX Gold Corp. (TSX.V: GGX), but Ximen has the right to form a joint venture and get back 30% interest in the project in case GGX fulfills its option.

The Kenville Gold Mine Property. (Source: Anglo Swiss Resources Inc., 2008)
"The Kenville Gold Mine has played a major role in the rich history of BC Gold mining. It was the first underground lode gold mines in British Columbia and was once the largest producer in the Nelson Mining Camp. There have been multiple new targets and veins discovered in the last several years and Ximen is looking forward to the potential opportunity that exists ahead." (Chris Anderson, President and CEO of Ximen Mining Corp. on April 8, 2019)
The Kenville Gold Mine Property is located 8 km west of Nelson, BC, is accessible by paved road and is connected to the power grid. Existing infrastructure includes mining equipment, offices, mechanic shop, core storage and accommodation.
According to Ximen, Kenville was discovered and staked in 1888, and was mined intermittently until 1954 with a recorded production of 2,029 kg gold, 861 kg silver, 23.5 t lead, 15 t zinc, 1.6 t copper and 37 kg cadmium from 181,395 t processed.
According to the BC Ministry of Energy, Mines and Petroleum Resources:
"In 1945, Kenville Gold Mines Ltd. (owned by Noranda Mines Ltd.), acquired the property and proceeded with an exploration and development program that included building a 125-tonne per day cyanide mill. Over 6096 metres of diamond drilling were completed on the Granite-Poorman property, partially from the surface in a search for hidden veins and the remainder underground to search for extensions of known veins. The mine ceased operations in 1949, though small amounts of high-grade ore were shipped to the Trail smelter in 1960 and 1961. The mill remained in operation until 1962, processing feed from local small-scale mining operations. Upon decommissioning in 1962, the mill was shut down and all usable equipment was removed from the site. In 1969, the property was acquired by Algoma Industries and Resources Ltd. Algoma attempted to restart mine production, re-opening the 257 Level and dewatering the mine. Further efforts maintained the mine open, rebuilt the mill and attempted production. These efforts failed and in 1987 the property was sold to Coral Industries Ltd. In 1989, Coral Industries exercised their right to operate the mine, took over the care and maintenance program and began an assessment of milling operations. Production was dedicated to testing milling operations. Testing indicated the mill was not properly designed for the ore and that flotation might be a preferred recovery method."
According to Golden Dawn's Updated June 2017 PEA, the Greenwood Mill and Tailings Facility includes "a modern crushing-grinding-gravity-flotation facility with a mill rated at 212 tonnes per day capacity, assay laboratory and tailing facilities, all fully permitted and under care and maintenance since operations ceased in late 2008... The equipment inside the mill building includes a ball mill, a regrind ball mill, a centrifugal gravity concentrator system, a series of flotation banks and a filter that all appear in good shape."

Full size / The modern Greenwood Mill processing facility was built in 2007. It was operational for only 9 months during 2008, in part due to the global financial crisis, a corresponding lack of financing and the weak gold price at that time. In 2016, Golden Dawn acquired the Greenwood Mill complex, along with the past producing Lexington and Golden Crown mines. See more details here.
Full size / Above figures from Anglo Swiss Resources Inc. are historic and non-compliant with NI 43-101 and as such should not be relied upon. Furthermore, the comparison between Kenville and Dalradian Resources Inc.'s Curraghinalt Gold Deposit in Northern Ireland must be considered highly promotional as Curraghinalt is a more delineated project (i.e. less risk) with Measured & Indicated Resources of 6.35 million tonnes grading 15.02 g/t gold (around 3.1 million ounces of contained gold) and Inferred Resources of 7.72 million tonnes averaging 12.24 g/t gold (around 3 million ounces of contained gold) May 10, 2018. Kenville's historic 2009 estimate is a fraction of what Dalradian definied at Curraghinalt and it is highly unlikely that Ximen intends to delineate a similar resource as the company stated its aim of completing a new resource estimate that includes the more recent drill results at Kenville. Nevertheless, the above figures show the possible location and direction of the Kenville veins as a preliminary vein interpretation, and indicate potential for future work in case Ximen can complete the proposed acquisition of the Kenville Gold Mine Property.
Excerpts from the BC Ministry of Energy, Mines and Petroleum Resources on the Kenville Gold Mine:
"In 1992, the property (including the Venango adit) was acquired by Anglo Swiss Resources Ltd. In 1994, Teck Exploration Ltd. optioned the Kenville mine property and amalgamated it with the adjacent Ron property. The Teck exploration program focused on locating a bulk minable copper-gold porphyry target. From 1994 to 1997, work included 16 diamond drillholes totalling 3083 metres, induced polarization, resistivity and ground magnetic and geochemical surveys. Low-grade porphyry-style mineralization and alteration was encountered over short intervals. Teck dropped the option in 1997. During this time, the existing mill facilities were used by Anglo Swiss to process bulk samples extracted from the Blu Starr gemstone property to the north.
Full size / Drill core from the Kenville Gold Mine Property. (Source: Anglo Swiss Resources Inc., 2008)
Anglo Swiss resumed exploration in 2005. Work focused on an area on the west side of Eagle Creek and consisted of GPS mapping, geochemical soil sampling and excavator trenching. The program continued into 2006 with trenching reclamation, soil sampling and the reconstruction of a 40-metre length of the 257 adit. In 2007 and 2008, Anglo Swiss completed 15 500 metres of drilling over 50 holes near the Kenville mine. The purpose of the program was to further define the Granite-Poorman vein system and to continue exploration for porphyry-style mineralization. Results of this program are unknown.
In 2009, work completed by Anglo Swiss Resources consisted of 680 line kilometres of airborne time-domain electromagnetic geophysical surveys, surface diamond drilling, underground rehabilitation and underground drilling. Ten diamond drillholes were completed at four sites on the east side of Eagle Creek, totalling 3568.4 metres of NQ2-size core. The aim of the drilling was to intersect the inferred extension of the Hardscrabble and Yule veins. Analysis of the core revealed quartz veins ranging from 1 to 40 centimetres thick, typically containing up to 30 per cent fine-grained pyrite with local chalcopyrite and chlorite. The veins commonly imparted a silica-pyrite halo up to 15 centimetres into the hostrock. In 2010, Anglo Swiss Resources completed a diamond drilling program intending to test the southern extension of high-grade veins from the Kenville mine. Five holes were completed and a sixth was abandoned at 90 metres depth. In total, 2982 metres were drilled. From 2010 to 2012, 18 diamond drillholes were completed from eight locations on the Kenville property and one location on the adjacent Ron property. In total, 9375.53 metres of core were drilled, including 8863.17 metres of NQ2-size core and 512.36 metres of BTW core. The drilling successfully identified the southern extensions of the vein systems targeted in the Kenville and Venango mine workings. In 2013, Anglo Swiss sold the Kenville gold property to Eagle Creek Gold Corporation.

Existing infrastructure on the Kenville Gold Mine Property. (Source: Ximen Mining)
The Granite-Poorman veins produced mainly gold with silver but the mill has been used at various periods to process ores from other properties that might have been richer in base metals. In recent years, some of the granitic rock has been used as a construction material (Granite MINFILE 082FSW342). A 1985 report by P.J. Stantos stated that indicated and inferred resources above the 257 (main mine adit) level were 294 800 tonnes grading 16.73 grams per tonne gold...
Quartz veins occupy gravity fault planes and cut the diorite hostrock along a northwest trend and dip 45 degrees to the northeast. Flat quartz veins occupy tension fractures created by movement along northwest-trending faults. The veins are cut by faults, some of which are occupied by lamprophyre dykes. Because they occupy regional fault planes, the quartz veins have exceptional continuity along strike and downdip.

Gold-rich specimen from the historic Kenville Gold Mine. (Source: Ximen Mining)
The Kenville mine has been classified as a gold-quartz vein deposit. The mine workings include five north-northwest–trending veins hosted in variably sheared mafic intrusives. These five veins are part of the Granite-Poorman veins, which consist of six main veins and several secondary or less continuous veins. The veins strike 330 to 350 degrees, dip approximately 45 degrees northwest and have an average thickness of 0.6 metre, although they are more commonly 0.02 to 0.1 metre wide. From west to east, over a horizontal distance of 518 metres, they are the Hardscrabble, Poorman, Greenhorn, Granite (or White) and Beelzebub veins. Lesser veins occur to the east and west. The veins consist of milky to glassy quartz with pyrite and chalcopyrite occurring as the dominant sulphides. Minor galena, sphalerite, scheelite and visible gold occur within the veins. Reports from earlier development mention "rich pockets" of visible gold. Where the veins are oxidized, limonite is common with some "free gold". Scheelite is widely distributed as individual grains but rarely as significant concentrations in any given zone. Sulphides are commonly disseminated in hanging wall or footwall rocks. Ore shoots, which rake to the south, are formed at the intersection of the main veins with flatter lying offshoots; high gold values in these shoots appear coincident with galena. Hostrocks exhibit replacement of plagioclase by soda-potassic feldspar and alteration of ferromagnesian minerals to biotite and epidote.
At the Hardscrabble vein, steeply dipping faults drop the eastern block down as much as 15 metres. The largest fault has produced offset of approximately 100 metres to the left in the Granite and Greenhorn veins. Local structure is dominated by the northeast to northwest-trending, south-plunging Hall Creek syncline. To the north of the project area, a series of northwest-striking shears form a 1-kilometre-wide zone known as the Silver King shear.
Numerous adits and underground workings, most dating from the turn of the 19th century, are present on the property. The main mine workings consist of seven levels. The mine is developed from two main levels, the 2570 or lower (257 Level), and the 2750 or upper (275 Level) adits. Underground workings are extensive. The five main veins have been stoped for a combined length of over 915 metres.
The Kenville Mine was the first underground lode gold mine in British Columbia and was the largest producer in the Nelson Mining Camp Project claims. The first claims on the Granite-Poorman property were staked by I. Neil in 1888. In 1889, Eagle Creek Mining Company began milling ore from five northwest-trending veins on the northeast corner of the modern Kenville mine property. Tungsten, copper and cadmium are also present but have never been recovered in significant amounts.
From 1900 to 1929, the property changed ownership seven times; from 1904 to 1929, the mine was worked almost exclusively by lessees. The property was owned and operated by these companies, in the following order: Eagle Creek Gold Mining Co., Granite Gold Mines Ltd., Duncan United Mines Ltd., Kootenay Gold Mines Ltd., Kootenay Gold Exploration Co. Ltd., Inland Mining Co., Granite-Poorman Mines Ltd. and Granite-Poorman Gold Mines Ltd. In 1932, the property was acquired by Livingstone Mining Company. The mine continued to operate intermittently until 1944."
Below excerpts are from the booklet "Gold: World's Standard Basis of Value / Granite-Poorman: A Great Gold Mine in the Making" (Stewart Investment Company Ltd., Vancouver, B.C., Canada, 1930). These excerpts are presented with the sole purpose of showing the rich history of the Granite-Poorman / Kenville Gold Mine and the intention of Stewart Investment Company to raise funds for Granite-Poorman Gold Mines Ltd. to complete a 4,000 foot tunnel and a 600 foot upraise in order to put the mine back into operation during the 1920/1930s. As we just learned from the previous page, "In 1932, the property was acquired by Livingstone Mining Company. The mine continued to operate intermittently until 1944."
Note that the gold price was fixed at $20.67 USD/ounce between 1878 and 1932, whereafter its fixed price was raised to $35/ounce until 1939. It was not until 1972 that gold first traded above $50/ounce. (See gold's price history here). With an ounce of gold today worth almost 63 times as much as in the early 1930s, you do the math...
"A Great Gold Mine in the Making"
"The Granite-Poorman Mine is located within five miles of the City of Nelson, on first-class auto highway, in a position exceptionally favorable for economic mining, transportation and cheap power. The Nelson district has been an important producer of gold. The Granite-Poorman was the first gold mine in southern British Columbia to be developed and equipped with a stamp mill. It has made a production of about 100,000 tons of ore, which has produced gold to the value of over $1,000,000. The average value of the ore is $10 per ton. This is above the average of the gold mines operated successfully in the Province. The mine has been notable in the past for its spectacular specimens from rich pockets which occasionally occur in the veins. Some of these have been 50 per cent. gold...
Full size / Historic sketch showing part of the Kenville Gold Mine (Granite-Poorman Mine) including mill and other buildings, the 4,000 foot tunnel, the 600 foot raise, and part of the tunnel system (sourced from the booklet "Gold: World's Standard Basis of Value / Granite-Poorman: A Great Gold Mine in the Making", Stewart Investment Company Ltd., Vancouver, B.C., Canada, 1930)
The known ore zone is 2,020 feet wide. The veins have been traced on the surface for a distance of approximately 3,000 feet. Fissure veins such as these usually extend to depths proportionate to the length of their surface exposures...
There are five main veins in the property. They are approximately parallel in strike and dip. The strike is northwesterly and the dip southeasterly. The ore-shoots hade south. The late J. P. Swedberg was a capable pioneer prospector of Nelson and was interested in the Granite-Poorman property. He claimed to have traced across it in a westerly direction the rich float of a vein with westerly strike. On account of the depth of the drift and growth of vegetation, prospecting in that section of country is exceedingly difficult and many thousands of dollars have been expended in open cuts, ground-sluicing and other devices to expose bedrock. The vein referred to by Mr. Swedberg has never been discovered in place, but its existence is a probability on account of a similar occurence known to exist on the west side of Eagle Creek, and the extension of which into the northern end of the Granite-Poorman property is a possibility. If such veins occur the gold will be found to be associated with bornite ore-shoots of good grade and considerable size might be expected at their intersections with the veins of the Granite-Poorman as at present know. The veins are true fissure veins with slicken-sided walls, sometimes carrying considerable gouge matter. Mineralization consists of free gold, auriferous pyrite and chalcopyrite, argentiferous galena, molybdenite and tungsten in the form of scheelite, the two latter occurring occassionally as small pockets. The presence of galena is indicative of gold enrichment. The mineral zone on the Granite-Poorman has a width of 2,020 feet and is traceable by development work for a length of half a mile, with the probability of its extension for another half mile to the southern boundary of the property, making a mineralized zone a mile in length. The ore deposits have been proven to extend to a vertical depth of 800 feet, or over 1,100 feet on the dip; and may be expected to prove continuous to much greater depth. The mining operations carried on in the past do not cover more than 20 per cent. of the mineralized area, leaving 80 per cent. to be developed as a possible source of ore production. The quartz varies from compact milky-white to sugar grain, with ore-shoots carrying values in gold from $8 to $51 per ton. Iron pyrites and chalcopyrite constitute 8 to 12 per cent. of the vein matter. It shows values running from $8.94 to $16.50 per ton. As usual with veins of true fissure type, the veins in the Granite-Poorman Mine vary greatly in width, narrowing down at times to a few inches and again widening into ore shoots of a width as much as 8 feet. The ore occurs in lenses varying from a few feet to 1,000 feet in length. Sometimes the veins are split by horses of country rock, but invariably come in again strongly and persistently... (Extract from Engineer's Report)

"This picture is taken near the point where one wheel-barrow load of ore gave a recovery of $7,000.00 in gold. The report of Geological Survey Branch of the Dominion Department of Mines verifies this statement. These sacks averaged in recovered values $80.00 each, or $2,000.00 per ton in recovered values. It is estimated that $1,000,000.00 worth of ore has come out of Granite-Poorman in past operations, and it is believed that its big production is ahead of it." (Sourced from the booklet "Gold: World's Standard Basis of Value / Granite-Poorman: A Great Gold Mine in the Making", Stewart Investment Company Ltd., Vancouver, B.C., Canada, 1930)
The Granite-Poorman Veins in order from east to west are: Beelzebub; Granite; Greenhorn; Poorman; Hardscrabble. The Beelzebub, Granite and Poorman Veins are known to persist on their strike for from 1400 to 1500 feet south of the limits of present development...
Full size / Historic sketch of the Kenville Gold Mine, formerly known as Granite-Poorman Mine, showing positions of the main veins. (Sourced from the booklet "Gold: World's Standard Basis of Value / Granite-Poorman: A Great Gold Mine in the Making", Stewart Investment Company Ltd., Vancouver, B.C., Canada, 1930)
Beelzebub Vein: It has been developed by two levels at elevations of 3,310 and 3,200 feet respectively, and was mined to a depth of 75 feet between the levels. The vein is from 14 to 22 inches in width and produced a thousand tons of ore which gave recoverable values of $9 per ton. It carries rich pocketty deposits. A wheel-barrow load of ore from one of these pockets produced gold to the value of $7000. The vein is displaced by faults as shown on the accompanying plans, but the outcrop is traceable for 1,400 feet further southeast. This vein certainly warrants further development. (Exctract from Engineer's Report)
Granite Vein: This vein lies 125 feet west of the Beelzebub Vein... It has been developed through the Granite Tunnel for a length of 1,000 feet, and has been traced on the surface by ground sluicing shafts and open cuts for a further distance of 1,450 feet, assuring a total length of nearly half a mile. It has been developed to the level of the White Tunnel by four levels for a vertical depth of about 400 feet. This is a very persistent vein, two feet wide in places, but wide enough in a large part of the workings to be mined alone without breaking into the wall rock to provide working room. So far as development has gone it has exposed four ore shoots. The White ore shoot is 230 feet in length; the Granite ore shoot is 285 feet long. A third ore shoot occurs between that and the Red Rock ore shoot, which gave a mill recovery of $11 per ton. These ore shoots carried values up to $45 a ton... Capt. Bennetts, M.E., of London, England, who was in charge of the original development, reported to the company concerning the Granite Vein: `The Vein has been of more than the average value at the same stage of development in mines that more extensive workings have proved to be dividend paying mines of great value.´ (Exctract from Engineer's Report)
Greenhorn Vein: Development has been by two levels to a depth of 150 feet. In these workings an ore shoot is exposed for a length of 300 feet. It is 3 feet in width. The average mill recovery is reported to have been $14 per ton. In 1910 high-grade ore was struck in this vein. J. D. Galloway, Provincial Mineralogist, gives the average value in 1915 as $10 per ton. (Report Minister of Mines for 1915, p. K111.) In that year the reports show that from 1,500 tons of ore mined in this vein 750 ounces of gold was obtained. (Exctract from Engineer's Report)
Poorman Vein: The vein has been mined for a length of 1,000 feet, and is developed by five levels, giving a depth of about 700 feet on the dip. It varies in width from a few inches to 8 feet. The average stoping width is about 2 feet. The main haulage level is No. 4, below which the various levels are connected by shaft, but this shaft is located at the north end of the ore shoot, and as that rakes about 45 degrees S. the amount of dead work necessary to reach the ore increases seriously with each deeper level. Between the underground development and surface outcrops the vein is known to persist on its strike for over half a mile, and will probably be found to extend toward the southern limits of the property. The Poorman Vein is remarkable for the fact that it has developed an ore shoot which is continuous for 1,000 feet, which is the limit of present development. Its further extent can only be determined by future work. Its persistency in depth is evident from its strength and values on the bottom level. Capt. O. E. Leroy, of the Canada Geological Survey, thus described conditions in the Poorman Vein: `The ore stoped during the past five years averaged $6.50 in recoverable values. The average run of the ore in the vein proper is about $15.00, but the width of mineralized rock stoped below the footwall lowers the average to the former figures. The gold is `shotty´ in character and easily recovered on the plates. Free gold in small but extremely rich pockets has been found at rare intervals down to the present lowest level. Scheelite also is found but is of rare occurrence. It occurs in small grains, pale brown in color, in massive, white quartz. (Can. Geol. Sur. Sum. Rep. 1911, p. 148) The Poorman Vein has produced the larger proportion of the tonnage so far milled from the mine.' (Exctract from Engineer's Report)"
Full size / "This [historic] map shows the location of the Granite-Poorman gold mine relative to the city of Nelson and the railway station of Taghum, also as to the Kootenay river and the main auto highway. On the mill site is situated the mill and other buildings. The 4,000-foot tunnel has its beginning immediately adjacent to the mill, hence ore can be delivered through the 4,000-foot tunnel into the mill for the recovery of the gold. A 600-foot raise will be made from the end of the 4,000-foot tunnel, and through the 600-foot raise a large body of gold-bearing ore will become available, as same is now submerged with water. This ore body is estimated having value in excess of $250,000.00." (sourced from the booklet "Gold: World's Standard Basis of Value / Granite-Poorman: A Great Gold Mine in the Making", Stewart Investment Company Ltd., Vancouver, B.C., Canada, 1930)

Full size / The historic Granite-Poorman Stamp Mill. BC Archives PDP04381. (Source)
Ellis Martin interview with Ximen's CEO and President, Chris Anderson (April 14, 2019). Click here to listen to their conversation.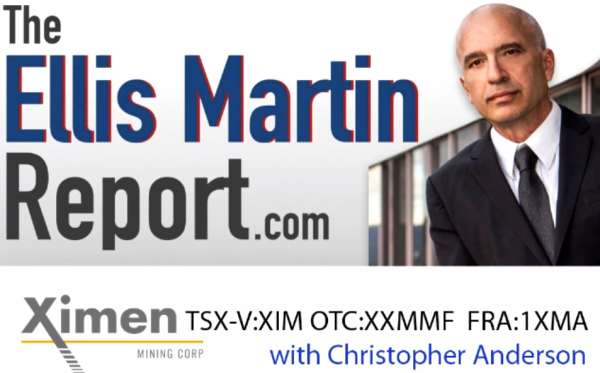 Link to the interview: http://www.abnnewswire.net/press/en/96839/Ximen
(Note that Ximen Mining Corp. is a paid sponsor of The Ellis Martin Report)
Interview with Chris Anderson, CEO of Ximen, at the PDAC 2019:

YouTube (Note that Ximen has paid for this video)
Technical Perspective

Link to updated chart (15 min. delayed): http://schrts.co/nVvegNqV
Company Details

Ximen Mining Corp.
888 Dunsmuir Street – Suite 888
Vancouver, BC, Canada V6C 3K4
Phone: +1 604 488 3900
Email: office@ximenminingcorp.com
www.ximenminingcorp.com
Shares Issued & Outstanding: 33,201,125
Canadian Symbol (TSX.V): XIM
Current Price: $0.70 CAD (04/26/2019)
Market Capitalization: $23 Million CAD
German Symbol / WKN (Tradegate): 1XMA / A2JBKL
Current Price: €0.456 EUR (04/26/2019)
Market Capitalization: €15 Million EUR
Previous Coverage
Report #11: "The Beauty of High-Grade Gold (and Silver!): Ximen Cuts to the Chase, Expands Work Efforts on Multiple Properties in Southern British Columbia"
Report #10: "Ximen Mining: Paving the road(s) to success"
Report #9: "Ximen takes a shot at history, focuses on acquiring the Kenville Gold Mine"
Report #8: "Industry inquiries persuade Ximen's partner to re-assay drill core for tellurium"
Report #7: "Ximen Hires B.C. Mining Expert Dr. Mathew Ball"
Report #6: "Location is Key for Ximen's Treasure Mountain Project in Southern British Columbia"
Report #5: "The Unprecedented Gold-Silver-Tellurium Strikes in the Historic Greenwood Mining Camp Continue"
Report #4: "Record-Breaking Gold Hit in Southern British Columbia"
Report #3: "Strong drill results and appreciating precious metals prices may herald golden times for Ximen Mining"
Report #2: "Ximen Mining reveals striking drill core observations ahead of assays"
Report #1: "Ximen Mining: Hunting for Multi-Million Ounces in British Columbia"
Disclaimer: This report contains forward-looking information or forward-looking statements (collectively "forward-looking information") within the meaning of applicable securities laws. Forward-looking information is typically identified by words such as: "believe", "expect", "anticipate", "intend", "estimate", "potentially" and similar expressions, or are those, which, by their nature, refer to future events. Rockstone Research, Ximen Mining Corp. and Zimtu Capital Corp. caution investors that any forward-looking information provided herein is not a guarantee of future results or performance, and that actual results may differ materially from those in forward-looking information as a result of various factors. The reader is referred to the Ximen Mining Corp.´s and Zimtu Capital Corp.´s public filings for a more complete discussion of such risk factors and their potential effects which may be accessed through the Ximen Mining Corp.´s and Zimtu Capital Corp.´s profile on SEDAR at www.sedar.com. Please read the full disclaimer within the full research report as a PDF (here) as fundamental risks and conflicts of interest exist. The author, Stephan Bogner, holds a long position in Ximen Mining Corp., Golden Dawn Minerals Inc. and Zimtu Capital Corp. and is being paid by Zimtu Capital Corp. for the preparation, publication and distribution of this report, whereas Zimtu Capital also holds a long position in Ximen Mining Corp. and Golden Dawn Minerals Inc. The author currently does not hold any equity positions or other kind of interest in GGX Gold Corp. or any other mentioned company. Ximen Mining Corp. has paid Zimtu Capital Corp. to provide this report and other investor awareness services.
Contact:
Rockstone Research
Stephan Bogner (Dipl. Kfm.)
8260 Stein am Rhein, Switzerland
Phone: +41-44-5862323
Email: info@rockstone-research.com
www.rockstone-research.com