Ximen Mining Corp. continues to deliver a strong newsflow which may even increase with today's news of "significantly expanding its precious metals exploration efforts for 2019, with programs underway and being scheduled on multiple properties", as the company stated.
As announced on Sunday, Ximen's CEO and President, Chris Anderson, has agreed to take on the opportunity as new Interim CEO of Golden Dawn Minerals Inc. (TSX.V: GOM). Golden Dawn's flagship asset is the Greenwood Mill and Tailings Facility, a modern processing plant built in 2007 yet operational for only few months in 2008 due to weak precious metals prices, the global financial crisis and a corresponding lack of financing. In March 2018, Golden Dawn noted that "the mill has been organized and readied to be operational within a month's notice."
This could eventually evolve as a golden opportunity for Ximen advancing with its exploration and development projects, which are all located in proximity or trucking distance to the Greenwood Mill.
With work now being expanded on multiple properties in southern British Columbia, Ximen is obviously eager to get to the point now and press ahead with its projects as fast as possible.
The Brett Gold Project
As announced today, "a permit application will be filed this month to extend the historic mine drift along the trend of the Main Zone and conduct underground drilling. This program is aimed at defining mineralized shoots on the Main Zone and exploring for parallel mineralized structures. A 291 tonne bulk sample was previously mined from the Main Zone, from which the average grade from the smelter was 27.74 grams gold/tonne and 63.7 grams silver /tonne."
To make a hypothetical example to gain a better understanding: A 1,000 tonne bulk sample with an average grade of 28 g gold per tonne contains 28,000 g of gold, or 900 ounces, worth around $1.2 million USD at $1,300 USD/ounce). An appropriate facility with a 200 tonne per day capacity could process such in only 5 days. This example simply shows the beauty of high-grade gold, whereas potential future drilling at the Brett Project first needs to find more of such material before considering plans (and permitting) for renewed bulk sampling.
The Providence Project
Recently on April 5, Ximen announced the acquisition of over 12,900 hectares of land near the city of Greenwood in southern British Columbia.

Full size / Ximen, GGX and Golden Dawn are controlling some of the largest properties in the Greenwood Mining Camp, whereas staking and acquisitions by others have increased lately.
As above map shows, this new land package is not only in proximity to the Greenwood Mill from Golden Dawn but also adjacent to Ximen's Gold Drop Property (currently optioned to GGX Gold Corp.). Yesterday, Ximen/GGX announced that the spring 2019 drill program has begun. The Gold Drop Property already indicated the high-grade potential of the area, recently making headlines with drill results of "129 g/t gold and 1,154 g/t silver over 7.28 meter core length", which ranks as the world's 7th best drill intercept of 2019.
Today, Ximen announced, "The Providence property covers a total of eleven known mineral occurrences including the historic past producing Providence mine that produced 183 kilograms of gold, 42,552 kilograms of silver, 183 tonnes of lead, 118 tonnes of zinc from 10,426 tonned mined."
Wow, that was a pretty high-grade "mine" (nowadays, it´s not uncommon to see bulk sampling in the order of 10,000 tonnes). This was extremely high-grade material as 183 kg translates into some 5,884 ounces of gold (worth around $7.7 million USD at $1,300 USD/ounce) along with 42.6 tonnes of silver, which equates to almost 1.4 million ounces (worth $20 million USD at $15/ounce). So this was more of a silver "mine" (or "bulk sample" you would rather call today).
Ximen noted in today's news, "Geological reconnaissance and rock geocheical sampling are planned to further investigate the historic mine dumps intially identified. Soil geochemistry and trenching will then be planned with a view to generate drilling targets."
This means that Ximen initially identified some old mine dumps on the Providence Property (and then acquired it). And now Ximen intends to sample these historic mine dumps. Considering the extremely high-grade nature of the historic Providence "mine", it will be interesting to find out if the "low-grade" material dumped by historic miners would still be considered as "waste" nowadays. Thereafter, Ximen plans to do some trenching to identify drill targets. This then could get really interesting, to say the least.
The Kenville Gold Mine
As announced today, "a detailed compilation of exploration and historic mining information is planned by Ximen. This work will be aimed at defining targets for possible trial mining. The Kenville Gold mine was the first hard rock gold mine in British Columbia, with recorded production of 2,029 kilograms of gold, 861 kilograms of silver, 23.5 tonnes of lead, 15 tonnes of zinc, 1.6 tonnes of copper and 37 kilograms of cadmium from 181,395 tonnes processed."
Last week, Ximen noted, "The property is located 8 km west of Nelson, BC, is accessible by paved road and is connected to the power grid. Existing infrastructure includes mining equipment, offices, mechanic shop, core storage and accommodation."
Ximen's CEO, Chris Anderson of Ximen Mining, in last week's news, "The Kenville Gold Mine has played a major role in the rich history of BC Gold mining. It was the first underground lode gold mines in British Columbia and was once the largest producer in the Nelson Mining Camp. There have been multiple new targets and veins discovered in the last several years and Ximen is looking forward to the potential opportunity that exists ahead."
This "potential opportunity" is already taking shape, especially when connecting the dots to Chris Anderson having the opportunity to turn Golden Dawn's lights back on to possibly get a foot into its Greenwood Mill (in case it can be put back into operation, which Mr. Anderson intends to find out during his tenure as Interim CEO of Golden Dawn).
Also note that the proposed acquisition of the past producing Kenville Mine Property has not been completed yet, so there is no guarantee that Ximen will complete its proposed work program and plans of identifying targets for possible "trial mining".
Overall, I can only recommend to stay tuned as Ximen is progressing fast on several fronts and the newsflow is poised to stay strong.

Full size / Ximen's Key To Success? The Greenwood Mill is a modern processing facility with a daily throughput capacity of 212 t/day (72,000 t/year), upgradable to 424 t/day with the addition of a second primary grinding mill and modifications to existing rougher flotation circuit. The mill's conventional processing can produce a gold gravity concentrate and copper-gold flotation concentrate, both marketable to smelters for immediate cash-flow. The near-by tailings pond, pictured above in the background, has a permitted capacity of 400,000 t. In 2016, Golden Dawn acquired this asset, along with the past producing Lexington and Golden Crown mines, whereas the previous owner invested approximately $35 million to develop these assets. (See more details about the existing infrastructure at the Greenwood Mill and Tailings Facility on pages 43-44 in Golden Dawn's Updated June 2017 PEA)
Last Sunday (April 14, 2019), Ellis Martin published an interview with Ximen's CEO and President, Chris Anderson. Click here to listen to their conversation.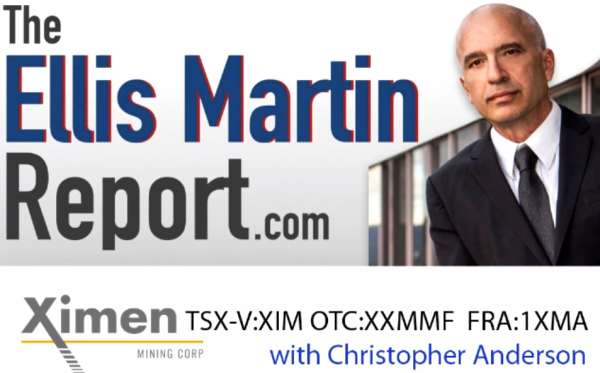 Link to the interview: http://www.abnnewswire.net/press/en/96839/Ximen
(Note that Ximen Mining Corp. is a paid sponsor of The Ellis Martin Report)
Interview with Chris Anderson, CEO of Ximen, at the PDAC 2019:

YouTube (Note that Ximen has paid for this video)
Previous Coverage
Report #10: "Ximen Mining: Paving the road(s) to success"
Report #9: "Ximen takes a shot at history, focuses on acquiring the Kenville Gold Mine"
Report #8: "Industry inquiries persuade Ximen's partner to re-assay drill core for tellurium"
Report #7: "Ximen Hires B.C. Mining Expert Dr. Mathew Ball"
Report #6: "Location is Key for Ximen's Treasure Mountain Project in Southern British Columbia"
Report #5: "The Unprecedented Gold-Silver-Tellurium Strikes in the Historic Greenwood Mining Camp Continue"
Report #4: "Record-Breaking Gold Hit in Southern British Columbia"
Report #3: "Strong drill results and appreciating precious metals prices may herald golden times for Ximen Mining"
Report #2: "Ximen Mining reveals striking drill core observations ahead of assays"
Report #1: "Ximen Mining: Hunting for Multi-Million Ounces in British Columbia"
Technical Perspective

Link to updated chart (15 min. delayed): http://schrts.co/nVvegNqV
Company Details

Ximen Mining Corp.
888 Dunsmuir Street – Suite 888
Vancouver, BC, Canada V6C 3K4
Phone: +1 604 488 3900
Email: office@ximenminingcorp.com
www.ximenminingcorp.com
Shares Issued & Outstanding: 33,136,125
Canadian Symbol (TSX.V): XIM
Current Price: $0.83 CAD (04/15/2019)
Market Capitalization: $28 Million CAD
German Symbol / WKN (Tradegate): 1XMA / A2JBKL
Current Price: €0.553 EUR (04/15/2019)
Market Capitalization: €18 Million EUR
Disclaimer: Picture source (cover picture) / This report contains forward-looking information or forward-looking statements (collectively "forward-looking information") within the meaning of applicable securities laws. Forward-looking information is typically identified by words such as: "believe", "expect", "anticipate", "intend", "estimate", "potentially" and similar expressions, or are those, which, by their nature, refer to future events. Rockstone Research, Ximen Mining Corp. and Zimtu Capital Corp. caution investors that any forward-looking information provided herein is not a guarantee of future results or performance, and that actual results may differ materially from those in forward-looking information as a result of various factors. The reader is referred to the Ximen Mining Corp.´s and Zimtu Capital Corp.´s public filings for a more complete discussion of such risk factors and their potential effects which may be accessed through the Ximen Mining Corp.´s and Zimtu Capital Corp.´s profile on SEDAR at www.sedar.com. Please read the full disclaimer within the full research report as a PDF (here) as fundamental risks and conflicts of interest exist. The author, Stephan Bogner, holds a long position in Ximen Mining Corp., Golden Dawn Minerals Inc. and Zimtu Capital Corp. and is being paid by Zimtu Capital Corp. for the preparation, publication and distribution of this report, whereas Zimtu Capital also holds a long position in Ximen Mining Corp. and Golden Dawn Minerals Inc. The author currently does not hold any equity positions or other kind of interest in GGX Gold Corp. or any other mentioned company. Ximen Mining Corp. has paid Zimtu Capital Corp. to provide this report and other investor awareness services.
Contact:
Rockstone Research
Stephan Bogner (Dipl. Kfm.)
8260 Stein am Rhein, Switzerland
Phone: +41-44-5862323
Email: info@rockstone-research.com
www.rockstone-research.com