Today, 92 Resources Corp. has started to announce assay results from an extensive sampling program on its wholly owned Hidden Lake Lithium Property within the central part of the Yellowknife Lithium Pegmatite Belt in Northwest Territories ("NWT"), Canada.
The 2016 summer exploration program included mapping and sampling of the LU D12 pegmatite, in addition to the newly discovered HL1, HL3 and HL4 pegmatites where spodumene has been visually identified. Today's reported results only include the LU D12 pegmatite with 85 samples collected from 15 channels. Additional assays from 223 samples from HL1, HL3 and HL4 are pending and are expected to be released shortly, respectively once received from the lab.
The best combination of grade and thickness from LU D12 returned an average of 1.53% Li2O and 64 ppm Ta2O5 over 11.58 m, including 1.9% Li2O and 52 ppm Ta2O5 over 9.02 m. Of the 85 samples collected from the LU D12 pegmatite, a total of 52 returned greater than 1% Li2O, with 34 samples returning greater than 1.5% Li2O to a peak of 3.08% Li2O. These are highly encouraging results for the upcoming winter drill program, which may extend widths below surface even more.
For perspective, the Whabouchi Deposit in Québec from Nemaska Lithium Inc. ($400 million CAD market cap.) averages about 1.5% Li2O. The James Bay Deposit in Québec from Galaxy Resources Ltd. ($600 million AUD market cap.) averages about 1.3% Li2O (indicated) at a 0.75% Li2O cut-off. The Mt Cattlin Deposit in Australia from Galaxy averages 1.1% Li2O. The Rose Lithium-Tantalum Deposit in Québec from Critical Elements Corp. ($79 million CAD market cap.) averages 0.98% Li2O and 163 ppm Ta2O5 (indicated).
Thanks to the highly encouraging results from the channel sampling program received today, permitting is currently underway for a winter 2017 drill program on LU DU12 and other spodumene bearing pegmatites at the Hidden Lake Property.
The high grades over long widths encountered in the outcrops of the LU DU 12 pegmatite are an indication of a potentially world-class lithium deposit. It was sampled over an intermittent strike length of approximately 275 m with 85 samples collected from 15 channels.
Samples were collected at approximate right angles to the strike of the pegmatite to best represent the mineralization. Due to terrain variations and cover, some channels may not represent the true width of the pegmatite (drilling may find true widths being much larger, extending below surface as mineralisation remains open along strike and strike extensions are likely beneath shallow cover). This pegmatite body alone, if it continues below surface with similar grades, could be highly amenable to open-pit mining with a low waste to ore ratio, resulting in relatively low mining costs.
The findings of elevated concentrations of tantalum mineralization from LU D12 (up to 596 ppm Ta2O5 with an average of 88 ppm as per the press-release) is a potentially significant discovery. Often, tantalum and lithium are strongly zoned with mineralized pegmatite bodies; however, meaningful zone overlap may exist and has been demonstrated in the past through co-production in other deposits known worldwide.
Rockstone is looking forward to the publication of the remaining 233 channel samples from the 3 newly discovered HL1, HL3 and HL4 pegmatites as spodumene has been visually identified in all of them and observed to contain appreciable amounts of spodumene.

In addition to the channel sampling of LU D12, HL1, HL3, and HL4, a total of 10 grab samples were collected from other pegmatites. At least 2 new pegmatites, not previously reported, were discovered to the south of LU D12. The above map shows more than 15 potentially lithium-bearing pegmatites spotted so far on the Hidden Lake Property.
Adrian Lamoureux (President and CEO of 92 Resources) commented in today's press-release:
"The initial channel sampling program at the LU D12 pegmatite exceeded our expectations, with strong mineralization demonstrated throughout, this was bolstered by the discovery of some very encouraging tantalum grades. Planning is underway for a winter exploration program of delineation drilling to confirm the dimensions of this mineralized body and to collect a small bulk sample for mineral processing. The potential for further discovery on the Property remains high, with sample analysis for several newly discovered spodumene bearing pegmatite bodies yet to be received."
Picture from the summer sampling program on the Hidden Lake Property: The newly discovered HL3 pegmatite outcropping extensively (above) as well as HL1 (below):
The dominant lithium-bearing mineral on the Hidden Lake Property appears to be very coarse grained, white and light gray to light greenish-gray spodumene. Some of the spodumene-rich pegmatites in Québec's James Bay Lithium District also have relatively coarse crystals (usually more than 5 cm, sometimes exceeding 1 m). The spodumene crystals encountered at surface on the Hidden Lake Property are also relatively large, with up to 91 cm in length as collected during the spring 2016 grab sampling program (the high-grade assays of 5 rock samples from surface on June 7, 2016 were grabbed solely at the LU DU 12 pegmatite). Visual spodumene estimates across a pegmatite in some places of 20-35%. Such coarse grained spodumene mineralization is likely to respond very well to conventional processing.
Pictures from the recent summer sampling program on the Hidden Lake Property
Spodumene is the main lithium-bearing mineral in most hard-rock lithium deposits with ores typically upgraded at the mine site (crushing, screening and dense media separation techniques) to produce a spodumene concentrate. Chemical grade concentrate (typically 6% Li2O) is sold and converted into lithium carbonate and lithium hydroxide. Recent prices for lithium concentrate (grade 6%) are about $600 USD/t.
Joe Lowry, lithium expert and market veteran, noted a few months ago:
"The addition of several new spodumene players (Mt Cattlin, Mt Marion, Pilbara and at least one new player in Quebec) by the end of the decade will continue to increase the hard rock share of the market over the next few years. This is probably a good time to mention a "mini myth" – let's call it a "sub myth": brine based lithium is the "best" source of lithium. Yes, lithium chemicals produced from world class brine are lower cost than hard rock based production; however, it is clear that the advantages of spodumene have greatly exceeded the cost disadvantages in recent years. It has been the growth of "high cost" spodumene capacity that has kept lithium supply in balance with demand over the past few years and will keep it in balance with demand over the past few years and will keep it in balance for at least the next three years."
Spodumene-bearing pegmatites continue to be an important supply of lithium globally, despite the advent of low-cost production from lithium brine deposits in South America in the mid-1990's. As the demand for lithium increases, pegmatite deposits around the world are gaining more focused attention as a viable, stable, and long-term supply source. Further, in many lithium pegmatite districts, other rare and specialty-metals have been recovered, including tin, beryllium, tantalum, and niobium which are often associated with spodumene pegmatite deposits.
The Hidden Lake Lithium Property is situated within the central parts of the Yellowknife Lithium Pegmatite Belt along Highway 4, approximately 40 km east of the city of Yellowknife, NWT. The lithium potential of pegmatites within the Yellowknife area was first recognized in the mid-1950s, when a number of the region's pegmatites were sampled and found to contain highly anomalous concentrations of lithium. Prior to 1955, small shipments of lithium ore were reported for 2 deposits within the region. It was also at this time that several pegmatites were identified at the Hidden Lake Property. The Hidden Lake Property is located within the central parts of the Yellowknife Pegmatite Belt, which extends from the Blaisdell Lake pegmatite series in the north about 45 km to the south near Harding Lake. The belt parallels the Prosperous Lake Granite Suite; pegmatites, related to this intrusive complex are usually discordant and predominantly north south to northeast-southwest elongate bodies. Within these zoned pegmatite fields, lithium-rich pegmatites tend to occur a similar distance from the source granite and are typically located farthest from the source granitoids. The largest pegmatite deposits often have structural controls that increase their tonnage or grade potential.
Lithium mineralisation at the James Bay Deposit in Québec (Galaxy Resources) is also associated with spodumene-bearing pegmatite dyke swarms, which vary in width from 60-100 m. The dikes generally outcrop at surface, and form a discontinuous corridor over a strike length of 4 km. James Bay's resource estimate:
Indicated: 11.75 million t @ 1.3% Li2O
Inferred: 10.47 million t @ 1.2% Li2O
The Whabouchi Deposit (Nemaska Lithium Inc.) has a feasibility study for the deposit and a hydromet plant, revised in January 2016:
Measured: 13 million t @ 1.6% Li2O
Indicated: 15 million t @ 1.54% Li2O
Inferred: 4.7 million t @ 1.51% Li2O
The Rose Lithium-Tantalum Deposit (Critical Elements Corp.):
Indicated: 26.5 million t @ 1.3% Li2O
Inferred: 10.7 million t @ 1.14% Li2O
The known lithium deposits and showings in the James Bay / Eastmain area highlight Québec as an excellent place to be, whereas the Lithium District near Yellowknife in NWT shares similiarities. Despite being relatively remote, Québec's lithium projects are close to roads and power lines, a fact that makes the potential CAPEX/OPEX viable for development, as being the case with Whabouchi. The Hidden Lake Property is close to a highway, power lines, water and the city of Yellowknife. 92 Resources has acquired a second hard-rock lithium property on July 26, 2016, which is also located in Québec.
The world's largest active lithium mine is the Greenbushes Mine in Australia, with reported reserves (as of September 2012) of 61.5 million t at 2.8% Li2O. The mine produces lithium from spodumene bearing pegmatite and has been in operation since 1985. In 2015, the global lithium market (in lithium carbonate equivalent or "LCE") is estimated to have been approximately 171,000 t, for which the Greenbushes Mine accounted for 55,000-60,000 t, or some 35% of the market (source: Deutsche Bank, May 2016).
---
Company Details
92 Resources Corp.
#1400 – 1111 West Georgia Street
Vancouver, BC, Canada V6E 4M6
Phone: +1 778 945 2950
Email: adrian@92resources.com
www.92resources.com
Shares Issued & Outstanding: 45,071,623
Canadian Symbol (TSX.V): NTY
Current Price: $0.22 CAD (November 7, 2016)
Market Capitalization: $10 million CAD
German Symbol / WKN (Tradegate): R9G2 / A11575
Current Price: €0.146 EUR (November 7, 2016)
Market Capitalization: €7 million EUR
---
Previous Coverage
Report #6: "Crews mobilized for next phase of exploration on the Hidden Lake Lithium Property in NWT" (August 16, 2016)
Report #5: "92 Resources snags hard-rock lithium property in Quebec" (July 26, 2016)
Report #4: "Why 92 Resources looks ready for the next upswing" (June 20, 2016)
Report #3: "Extremely high-grade lithium assays from surface" (June 7, 2016)
Report #2: "Untapping Canada's Hidden Lithium Treasuries" (March 1, 2016)
Report #1: "92 Resources on the case for Hard Rock Lithium" (April 11, 2016)
---
Stay Tuned!
For smartphones and tablets, an APP from Rockstone Research is available in the AppStore and in the GooglePlayStore.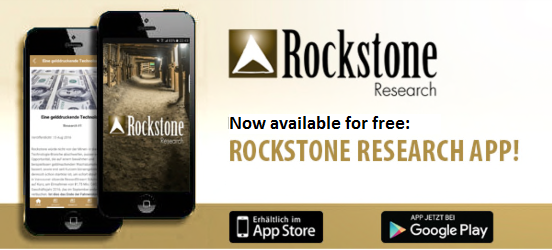 Disclaimer: Please read the full disclaimer within the full research report as a PDF (here) as fundamental risks and conflicts of interest exist.