Picture of a rock sample with extremely large spodumene crystals, which was collected recently by 92 Resources Corp on its Hidden Lake Property
Today, 92 Resources Corp. published the assays from a first sampling program on its fully owned Hidden Lake Lithium Project near Yellowknife, NWT, Canada. The results confirm extremely high-grade lithium right at surface: 1.65%, 2.45%, 2.69%, 2.89% and 3.06% Li2O (average: 2.54 Li2O). For comparison: The Whabouchi Deposit in Quebec from Nemaska Lithium Inc. (market capitalization: $390 million CAD) averages 1.5% Li2O aiming to produce lithium carbonate at projected costs of $3,771 USD/t. Production costs from brines are somewhat lower with $2,000-3,000 USD/t, yet with current prices well above $10,000 USD/t, hard-rock lithium mining has become a very lucrative business as well, so far primarily in Australia. Hard-rock lithium deposits have the advantage of a short and direct path to production, one that is not influenced by weather or dependent on new technologies that still must prove viability on a commercial scale.
Interestingly, there is a comparable company by the name of Alset Energy Corp. which published similar high-grade lithium assays from its hard-rock lithium property in Ontario 9 trading days ago (also from a first surface sampling program): 0.95%, 1.4%, 1.45%, 1.47% and 1.75% Li2O (average: 1.4% Li2O). Thus, the rocks from 92 Resources are 81% higher graded with lithium than Alset. 6 trading days ago, Alset published more assays from its sampling program: 1.23%, 1.44%, 2.19% and 6.38% Li2O, thus the total average is now at 2.03% Li2O and 92 Resources has 25% higher grades than Alset.
During the last 9 trading days since publication of the first assays, Alset's stock increased strongly with high volumes and has a current market capitalization of $27 million CAD. For comparison: 92 Resources published higher grades today and has a current market capitalization of $3 million CAD. Hence, a similar market capitalization could be expected for 92 Resources, which translates into a short-term appreciation potential of 770%.
Hidden Lake's historic lithium grades, and especially today's high-grade assays, are similar or better than advanced spodumene deposits in Canada (Nemaska), Australia and elsewhere. The reported mineralogy is very simple (spodumene processing and metallurgy straight-forward). Another major advantage is that the property is located close to a major road, whereas active infrastructure is in place in the Yellowknife Mining District.
Adrian Lamoureux, President & CEO of 92 Resources Corp. commented today:
"We are extremely pleased that our initial site visit confirmed the exceptional potential Hidden Lake has to host a number of highly prospective spodumene bearing pegmatites. The Yellowknife Pegmatite belt may one day prove to be an important source of lithium, which will help fuel Canada's transition to a green energy economy."
Picture from the latest sampling program on the Hidden Lake Property: A geologist from 92 Resources Corp. stands on top of an outcropping pegmatite dyke: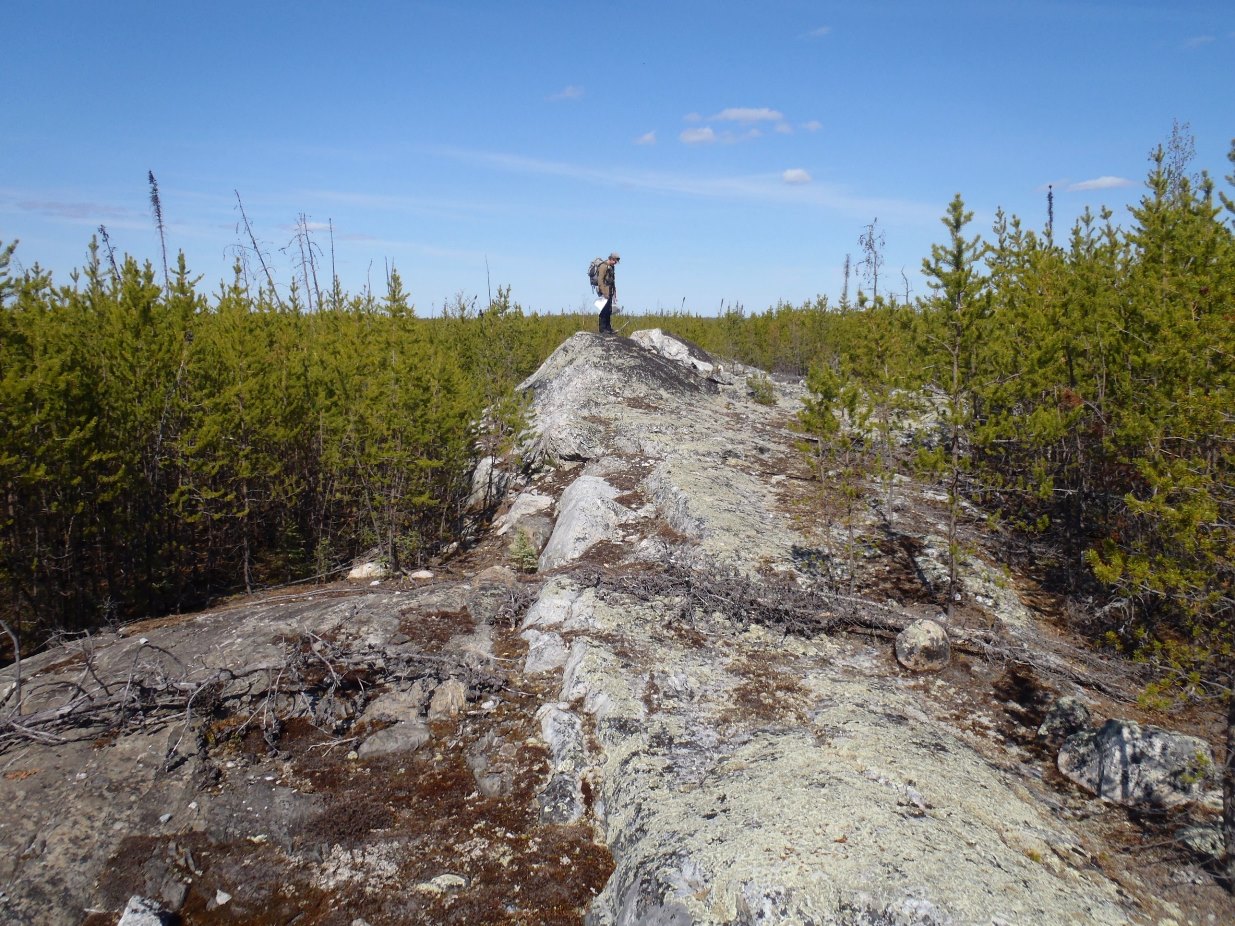 Pictures from the latest sampling program on the Hidden Lake Property showing large spodumene crystals at surface:
Historic Exploration
During the mid-1950s, pegmatites in the Yellowknife district were explored for their lithium potential. Lasmanis concluded in "Lithium Resources in the Yellowknife Area, Northwest Territories, Canada" (1977):
"Detailed mapping and surface sampling of 14 properties within the district has demonstrated the presence of 49,000,000 tons of rock to a depth of 152m having an average grade of 1.40% Li2O. These resources could be developed if and when market conditions place a strain on available supplies. Literature studies identified the Yellowknife area as a prime candidate for acquisition of reserves after a commodity study in 1974 focused on lithium as a major element needed for future energy systems. The Yellowknife district qualified, as it happens to contain sufficient potential resources to feed a centrally located conversion plant."
The majority of the area covered by the Hidden Lake Property has seen little historic exploration; most exploration has been to the north and east of the property.
Recent exposure as a result of forest fires has made identifying the pegmatite dykes on aerial photography possible, as the exposed the dykes are generally lighter coloured and resistant.
At Hidden Lake, the LU #12 and surrounding pegmatites offer formidable potential for significant tonnages of high-grade lithium. Past exploration identified an extensive pegmatite field with large historic tonnages at high grades.
Potential
• High-grade lithium pegmatites at and/or near surface
• At least 6 new (unsampled) pegamatites evidenced from airphotos
• Simple mineralogy (coarse grained spodumene)
• Fast delineation of a maiden NI43-101-compliant resource estimate (few drill holes needed).
The Hidden Lake Property
• Location: ~40 km NE of Yellowknife, Northwest Territories, Canada
• Size: ~1,600 hectares
• Access: Via all-weather highway within few 5 km of property
• Geology: Several known pegmatites at surface plus numerous untested targets. The property is highly prospective for spodumene-bearing lithium pegmatites.
Along trend of known lithium pegmatites with sizeable, high-grade resources. Within zoned pegmatite fields, lithium rich pegmatites tend to occur a similar distance from the source granite, and are typically the furthest from the source granitoids. The largest pegmatite deposits often have structural controls increasing their tonnage or grade potential. The target pegmatite dykes at Hidden Lake are a similar distance from the Archean granitoids as the known spodumene-bearing bodies and as such, their potential for similar spodumene mineralization is considered high.
• Mineralogy: Simple
• Host mineral: Spodumene within the Yellowknife district is also described as "generally light in colour and of good quality".


LU #12 Dyke
• Estimated length: >300 m
• Average width: ~10 m
• Historic grades: 0.64% to 1.4% Li (1.37% to 3.01% Li2O) in 7 trench samples
• Spodumene: content observed to range from up to 20% with sub-intervals to 35%, coarse-grained
At Hidden Lake, the LU#12 pegmatite was historically mapped and sampled over an approximate exposure that measures 10 by 300 m. 7 samples were collected from surface trenches, and contained between 1.37 and 3.01% Li2O. The very high grades of lithium were attributed to observed concentrations of coarse-grained spodumene. Crystals up to 90 cm long were noted. The spodumene content in pegmatites on the Hidden Lake Property ranges from up to 20% with sub-intervals to 35%, coarse-grained. The average spodumene content in Nemaska's Whabouchi Deposit is 20% with light-blue spodumene crystals reaching up to 30 cm in size.
The Hidden Lake Lithium Property has a historic lithium showing and several additional exploration targets. In addition to the LU#12 Lithium Pegmatite, airphotos indicate the presence of at least 6 other pegmatites with lengths to several hundred meters. This confirms Lasmanis' assertion (1977) that the abundance of pegmatites in the area is "astounding".
---
About Hard-Rock (Spodumene Pegmatites) Deposits
Spodumene-bearing pegmatites continue to be an important supply of lithium despite the advent of low-cost production from lithium brine deposits in South America in the mid-1990's. As the demand for lithium is increasing, other pegmatite deposits around the world are gaining attention.
The world's largest active lithium mine is the Greenbushes Lithium Project in Australia with reported reserves (as of September 30, 2012) of 62 million t at 2.8% Li20. The mine has been in operation since 1985, and produces approximately 740,000 t of lithium (spodumene) concentrates annually.
---
Canadian Lithium to Outshine Gold?

The spodumene variety, kunzite (source)
By Marc Davis www.BNWnews.ca on April 11, 2016
How long does it take to build a business into a billion dollar asset? Typically, it takes a whole generation – or longer. (For instance, it took the world's largest retail company, Walmart, nearly 30 years to reach $1 billion in sales.)
But in the mining business, stratospheric success can happen in just a matter of weeks. That's assuming an exploration company is smart enough, as well as fortunate enough, to drill in the right places.
In which case, there still exists the opportunity to unearth multi-billion mineral assets that are ripe for the picking. And for the right kinds of minerals, such as lithium and diamonds, even Canada still offers untapped opportunities.
92 Resources Corp. (TSX.V: NTY) (Frankfurt: R9G2) is among the many intrepid exploration juniors that hope to become virtually overnight rags-to-riches stories. It's pinning its hopes on a revitalized lithium project, which is situated only 40 kilometres from Yellowknife, the capital city of the Northwest Territories (NWT).
Whereas most of Canada has already been picked clean for new gold discoveries, the hunt for rich lithium deposits has only become a popular quest within the last several years.
And the rewards can be very lucrative indeed. For instance, one of 92 Resources' peers in the exploration sector, Nemaska Lithium Inc., has already hit the geological jackpot. It went from the discovery stage just a few short years ago to an independently-assessed valuation (NPV) of almost $1.9 billion for its Whabouchi lithium project in James Bay, Quebec.

Red and green spodumene crystals bearing the battery-critical element lithium (source)
In fact, lithium is fast becoming more lustrous to investors than gold. So much so that it's even been hailed "the new gasoline" by Wall Street's most powerful and influential investment bank, Goldman Sachs.
This is all because of the electrification of the automobile industry, which is reliant on "green" lithium-ion batteries. Tesla Motors is leading the way in the U.S. with the building of its $5 billion "gigafactory" in Nevada, where it will manufacture lithium-ion batteries in partnership with Panasonic, its Japanese battery supplier.
Production is expected to start later this year. And by 2020, enough lithium battery-packs will be manufactured each year to power up to 500,000 electric vehicles.
Most notably, Tesla wants to source as much of its lithium supplies as possible from domestic or Canadian mines. And presently, that's a tall order because only one North American lithium mine exists, which is also in Nevada.
All of this promises to be a boom to successful lithium explorers here in North America, especially since the U.S. currently has to import over 80% of its lithium supplies. Even the U.S. government is onside with Tesla's bold mandate because it has declared lithium to be a strategic metal.
So the race is on to find the biggest and best deposits on this continent.
And 92 Resources isn't wasting any time in its efforts to probe the parameters of an emerging hard-rock lithium resource at Hidden Lake. This is where historic work has outlined a near-surface lithium discovery that has the potential for large tonnage, as well as high grades.
The work was conducted as far back as the mid 1950s when lithium – the world's lightest metal – was being hunted for industrial applications, as well as for nuclear power plants. However, a subsequent slump in lithium demand led to the abandonment of the project. And the project has languished ever since – until now.
That said, there has been some modest success at mining lithium in this remote part of Canada dating back to the 1940s and 1950s. However, company president Adrian Lamoureux says most historic exploration and development work in this region has only just scratched the surface.
For instance, he points to a 1977 geological assessment of the Hidden Lake property and adjacent prospects, which suggests their combined potential to host at least 49 million tons of high-grade lithium (averaging 1.40% Li2O). (It should be noted that this historic resource estimate is not NI 43-101 compliant, meaning that it does not qualify in Canada as a reliable resource measurement). Though his company will need to expand its land holdings and drill to see if these figures can be duplicated, Lamoureux says even a more modest-sized deposit could be profitably mined.
"Most hard rock lithium deposits around the world start to become potentially economic at a minimum threshold of around 10 million tons," he says. "That is assuming that they have grades at around 1.0% lithium (Li2O) or better, and are located in established mining districts with good infrastructure in-place."
"So if we can demonstrate that we have the kind of tonnage and high grades that historic exploration works suggests exist at Hidden Lake, then we're onto a prospectively world-class winner," he adds.
The project's appeal is sweetened by the fact that it sits within 150 metres (500 feet) of the surface, which means it could be amenable to inexpensive open-pit (quarry-like) ore extraction.
To date, surface trench samples have yielded grades as high as 3.01 % Li2O, with an average grade of about 2% among the mineralized showings. Of equal significance, some small-scale historic drilling has also revealed mineralized grades to a depth of 150 metres that are comparable to ones encountered by near-surface sampling.
This prospect of consistently rich grades throughout this well-mineralized asset is what really excites Lamoureux. And that's something that 92 Resources aims to find out in the coming months.
In the near-term, the company intends to conduct an extensive surface sampling program. This will provide a better understanding of the overall parameters of this under-developed lithium resource, as well its average grades near the surface. Subsequent to that, a drill program is expected to get underway this fall.
Recent exploration work at the expansive 1,000-hectare-plus property also suggests it may be significantly larger than it was originally believed to be. To this point, numerous geological anomalies that have yet to be tested, all of which suggest the deposit is "open" (continuous) along a linear axis.
Accordingly, 92 Resources' management believes its Hidden Lake deposit holds the potential for considerable expansion.
Additionally, the nearby proximity of Yellowknife means that the project benefits from accessibility to important regional infrastructure. The fact that a well-serviced gold mining camp is located a short distance to the west of Hidden Lake further benefits the logistics in favour of a prospectively economic project. And the NWT is well-known for being a mining-friendly jurisdiction.
An important discovery at Hidden Lake would be welcome news for the renewable energy business sector. In fact, the large-scale adoption of lithium-ion batteries is being aggressively presaged by various government initiatives. They include the Obama Administration's commitment of $2 billion to helping finance clean energy initiatives, which include a broad-based adoption of lithium-ion powered batteries.

Spodumene crystal (source)
Other catalysts for the accelerated growth in the lithium-ion battery market include quickly falling battery prices, matched with the advent of more "green battery" mega- factories being built around the world.
All told, lithium demand is forecast to triple by 2020, according to the Californian technology research firm, Frost & Sullivan. This should translate into a $40 billion a year lithium-ion battery market by the same year, according to Citi Research, a division of the giant U.S. bank, Citibank.
The problem right now is a supply constraint. This is because lithium mining around the world is controlled by just four major chemical companies. And they're not able to quickly scale-up production any time soon. Not surprisingly, lithium prices have been trending upwards, especially over the past couple of years.
This long-term ascendancy in lithium prices appears poised to gather steam, especially because there's a supply crunch on the horizon. In fact, demand is anticipated to be as high as 125% of total production capacity, according to Credit Suisse Equity Research, part of the giant European investment bank Credit Suisse.
Besides being capacity-constrained, lithium mining is also subject to geopolitical risks and environmental issues among the world's major production areas, which include Latin America and China. So battery manufacturers are desperate for an uninterrupted long-term lithium supply that is mostly sourced here in North America.
This all explains why it is imperative for new producers to meet a projected future supply deficit. Certainly, 92 Resources hopes to be one of them.
In so doing, the company will have a chance to brandish its "green" credentials by helping to set society on a path toward a low-carbon energy future. And in the process, investors have an opportunity for a home-run win like the one that's already being enjoyed by shareholders of Nemaska Lithium.
---
The 92 Resources team will be presenting in Vancouver on Tuesday, June 14: Click here to register
---
Company Details
92 Resources Corp.
#1400 – 1111 West Georgia Street
Vancouver, BC, Canada V6E 4M6
Phone: +1 778 945 2950
Email: adrian@92resources.com
www.92resources.com
Shares Issued & Outstanding: 31,809,923
Canadian Symbol (TSX.V): NTY
Current Price: $0.10 CAD (June 6, 2016)
Market Capitalization: $3 million CAD
German Symbol / WKN (Frankfurt): R9G2 / A11575
Current Price: €0.06 EUR (June 6, 2016)
Market Capitalization: €2 million EUR
---
Analyst Coverage
Research #2: "Untapping Canada's Hidden Lithium Treasuries" (March 1, 2016)
Research #1: "92 Resources on the case for Hard Rock Lithium" (April 11, 2016)
Disclaimer: Please read the full disclaimer within the full research report as a PDF (here) as fundamental risks and conflicts of interest exist.