US Debt Ceiling Visualized in $100 Bills
United States owes a lot of money. As of 2012, US debt is larger than the size of the economy. The debt ceiling is currently set at $16.394 Trillion and approaching rapidly.
To see current debt live visit US Debt Clock.
One Hundred Dollars
$100 - Most counterfeited money denomination in the world.
Keeps the world moving.
Ten Thousand Dollars
$10,000 - Enough for a great vacation or to buy a used car.
Approximately one year of work for the average human on earth.
One Million Dollars
$1,000,000 - Not as big of a pile as you thought, huh?
Still, this is 92 years of work for the average human on earth.
One Hundred Million Dollars
$100,000,000 - Plenty to go around for everyone.
Fits nicely on an ISO / Military standard sized pallet.

The couch is made from $46.7 million of crispy $100 bills.
$100 Million Dollars = 1 year of work for 3500 average Americans
Here are 2000 people standing shoulder to shoulder, looking for a job.
The Federal Reserve´s mandate is to maintain price stability and low unemployment.
The Federal Reserve prints money based on the assumption that increasing money supply will boost jobs.
One Billion Dollars
$1,000,000,000 - You will need some help when robbing the bank.
Interesting fact: $1 million dollars weighs 10kg exactly.
You are looking at 10 tons of money on those pallets.
One Trillion Dollars
$1,000,000,000,000
The 2011 US federal deficit was $1.412 Trillion - 41% more than you see here.

If you spent $1 million a day since Jesus was born, you would have not spent $1 trillion by now...
but ~$700 billion- same amount the banks got during bailout.
One Trillion Dollars
Comparison of $1,000,000,000,000 dollars to a standard sized American Football field.
Say hello to the Boeing 747-400 transcontinental airliner that´s hiding in the back. This was until recently the biggest passenger plane in the world.
You can see the White House with both wings to the right.
"My reading of history convinces me that most bad government results from too much government." - Thomas Jefferson
US Debt Ceiling - $16.394 Trillion in 2013
The US debt ceiling limit D-Day is estimated for September 14, 2012. US Debt has now surpassed the size of US economy in 2011-- rated @ $15,064 Trillion.

Statue of Liberty seems rather worried as United States national debt is soon to pass 20% of the entire world´s combined economy (GDP / Gross Domestic Product).
"I predict future happiness for Americans if they can prevent the government from wasting the labors of the people under the pretense of taking care of them." - Thomas Jefferson

If the national debt would be laid in a single line of $1 bills, it would stretch from Earth, past Uranus.



122.1 Trillion Dollars
$122,100,000,000,000. - US unfunded liabilities by Dec 31, 2012.
Abovet you can see the pillar of cold hard $100 bills that dwarfs the
WTC & Empire State Building - both at one point world´s tallest buildings.
If you look carefully you can see the Statue of Liberty.

The 122.1 Trillion dollar super-skyscraper wall is the amount of money the U.S. Government
knows it does not have to fully fund the Medicare, Medicare Prescription Drug Program,
Social Security, Military and civil servant pensions. It is the money USA knows it will not
have to pay all its bills.
If you live in USA this is also your personal credit card bill; you are responsible along with
everyone else to pay this back. The citizens of USA created the U.S. Government to serve
them, this is what the U.S. Government has done while serving The People.

The unfunded liability is calculated on current tax and funding inputs, and future demographic
shifts in US Population.

Note: On the above 122.1T image the size of the bases of the money stacks are $10 billion, and 400 stories @ $4 trillion

"It is incumbent on every generation to pay its own debts as it goes. A principle which if acted on would save one-half the wars of the world." - Thomas Jefferson
"This is when you need to remember that when a nation´s economy collapses, the wealth of the nation doesn´t disappear, it only changes hands."
Government Waste: Missing Money Infographic does a great job showcasing the Trillions lost through miss-management.

Everyone needs to see this.
Source: Federal Reserve & www.USdebtclock.org - visit it to see the debt in real time and get a better grasp of this amazing number.
Canada
Canada has a $1577 billion USD economy, while carrying a relatively insignificant trade deficit of 9 billion dollars.

In 2012 Canada must re-pay and/or re-finance a significant portion of its debt. It must refinance 42% of its debt, but since the country carries as AAA credit rating as of Jan, 2012 it faces little challenge to re-finance its debt.
2012
Interest
2012
Repayment
Standing
Debt
Total
Debt
$14B
$221B

$298.1B

$535.3B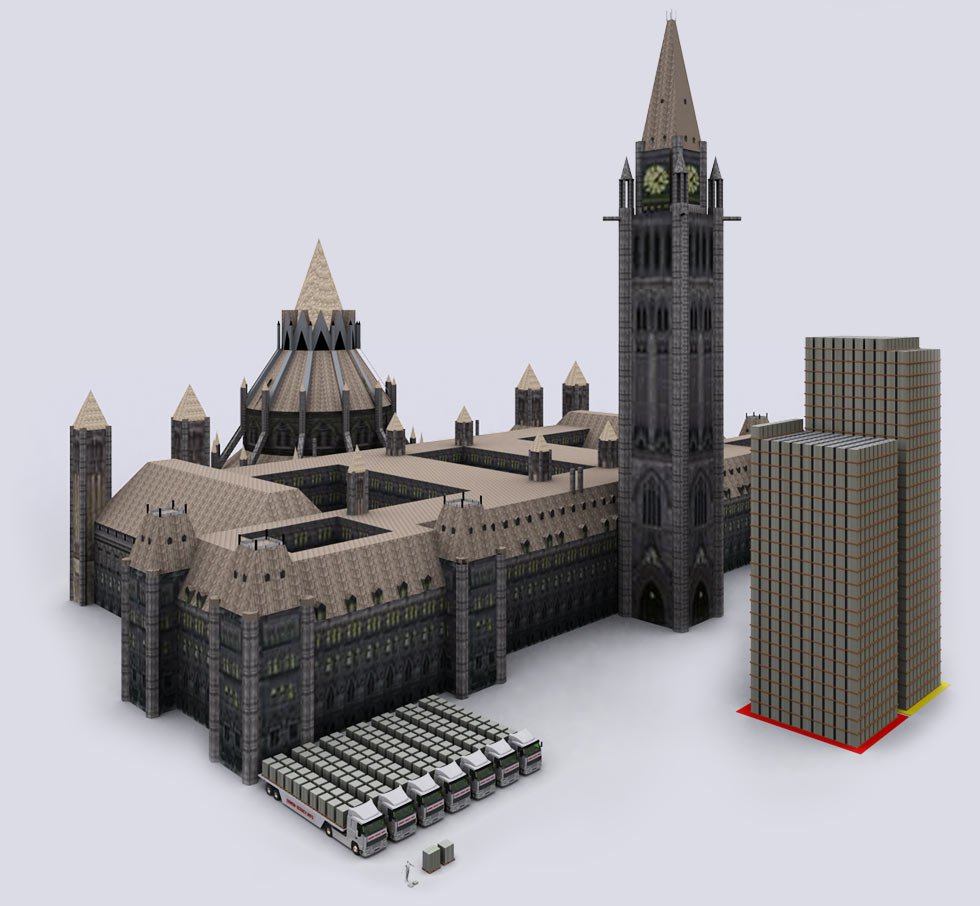 China
The debt pile seems rather
scary for China but the size of its
economy and population is not to be
underestimated. The debt only accounts for ~17.5% of
the economy.

China has the world´s second largest economy,
it is still experiencing economic growth and has the
biggest foreign exchange reserves in the world @
3200 billion USD . The bigger the foreign exchange
reserves, the more power the country has to influence
the value of its own currency.

"The greater a country´s foreign reserves, the better position it
is in to defend itself from speculative attacks on the
domestic currency". Read more on Foreign Exchange Reserves @ Wiki
2012
Interest
2012
Repayment
Standing
Debt
Total
Debt
$41B
$121B

$907B

$1069B
Brazil
Brazil has in recent years become an Economic
power-house and is now included in the G7 (Group of 7)
nations meetings. The economy is rated @ 2517 Billion USD.

With a 4.7% unemployment in 2011 and an export surplus it
it is doing rather well.
2012
Interest
2012
Repayment
Standing
Debt
Total
Debt
$31B
$169B

$873B

$1073B
India
India is rather poor if you look at individual income
but because of its large population it is a significant
Economic power-house in the world.


It has racked up a debt of 71% of economy in 2011, which is more than
the 60% debt to economy ratio set by EU for economic stability standard.
2012
Interest
2012
Repayment
Standing
Debt
Total
Debt
$39B
$57B

$1115B

$1211B
United Kingdom
UK has a large economy of $2480 billion USD, but now holds debt
in the size of 75% of economy, which is more than
the 60% max debt to economy ratio set by EU for
economic stability standard.


As of Jan 2012, UK holds a AAA credit rating but has a
staggering Gross External Debt of 8981 billion USD (not shown).
The private sector of UK (people, business´, etc) are highly
indebted, only surpassed by USA. High debt slows economic
growth and it is reflected in the slow 0.9% growth of economy
in 2011, which is much lower than the 4.2% inflation - meaning
people of UK are becoming more poor as of 2011/2012.
2012
Interest
2012
Repayment
Standing
Debt
Total
Debt
$67B
$165B

$1379B

$1611B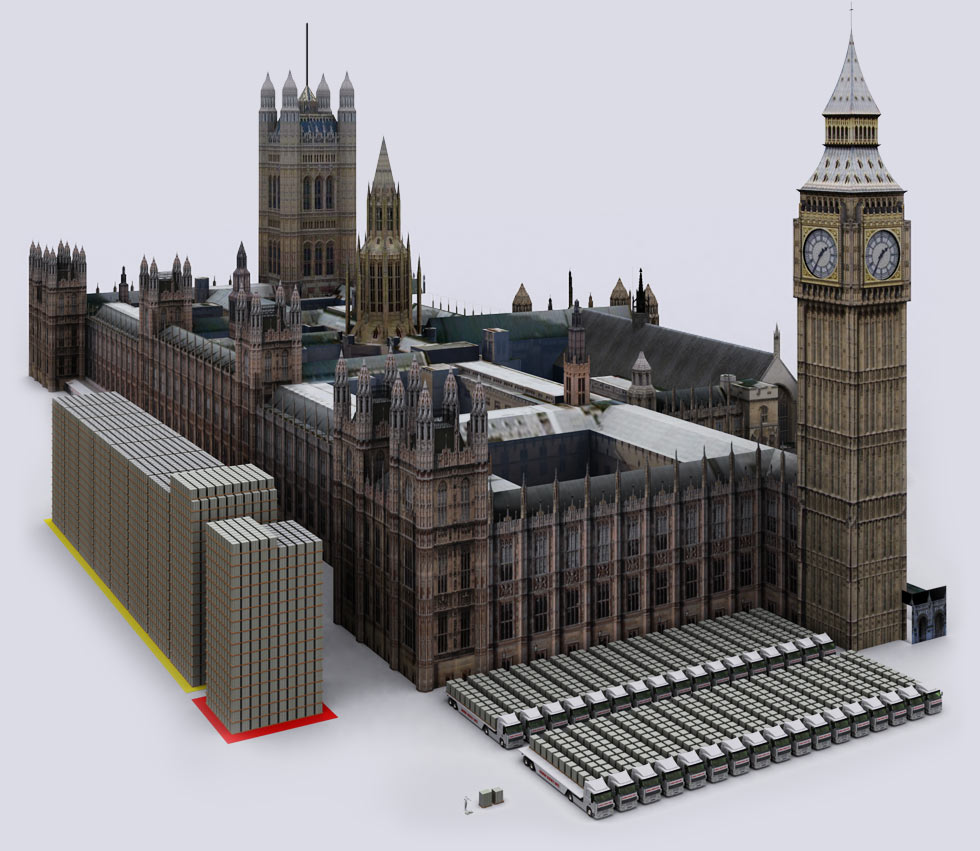 France
Each story of the debt stack is $10 billion USD. The total debt of
France is higher than the Eiffel Tower.

The French are among the countries attacking Greece & PIIGS
for their bad economic behavior, but are increasingly
finding themselves in the same economic situation.

Their credit rating was downgraded from AAA to AA+ recently
and hold a 83.5% (2011) debt to economy ratio, above the 60% set
by EU for economic stability standard.

French banks are also among the financially weak banks
that pose a danger to the French economy.
2012
Interest
2012
Repayment
Standing
Debt
Total
Debt
$54B
$367B

$1772B

$2193B
Italy
Italy´s economy is considered weak and too indebted for safe financial operation.

It has a debt ratio of 118.1% (2010) to economy, far above the 60% limit set by EU for stability. Italy faces a GIANT re-payment / re-finance of
$428 billion USD of its debt in 2012, with strong fear that it will have problems finding lenders/investors that want to lend the weak country money.

Credit rating agencies say the outlook for Italy is negative, which means
their credit rating will be down-graded in the future, as the debt takes
serious toll on the economy and try struggle to pay back their debt.
This will further scare lenders / investors away and force the interest rates up - amount of trucks full of cash of tax-payer money sent to investors / banks / lenders.
2012
Interest
2012
Repayment
Standing
Debt
Total
Debt
$72B
$428B

$2000B

$2500B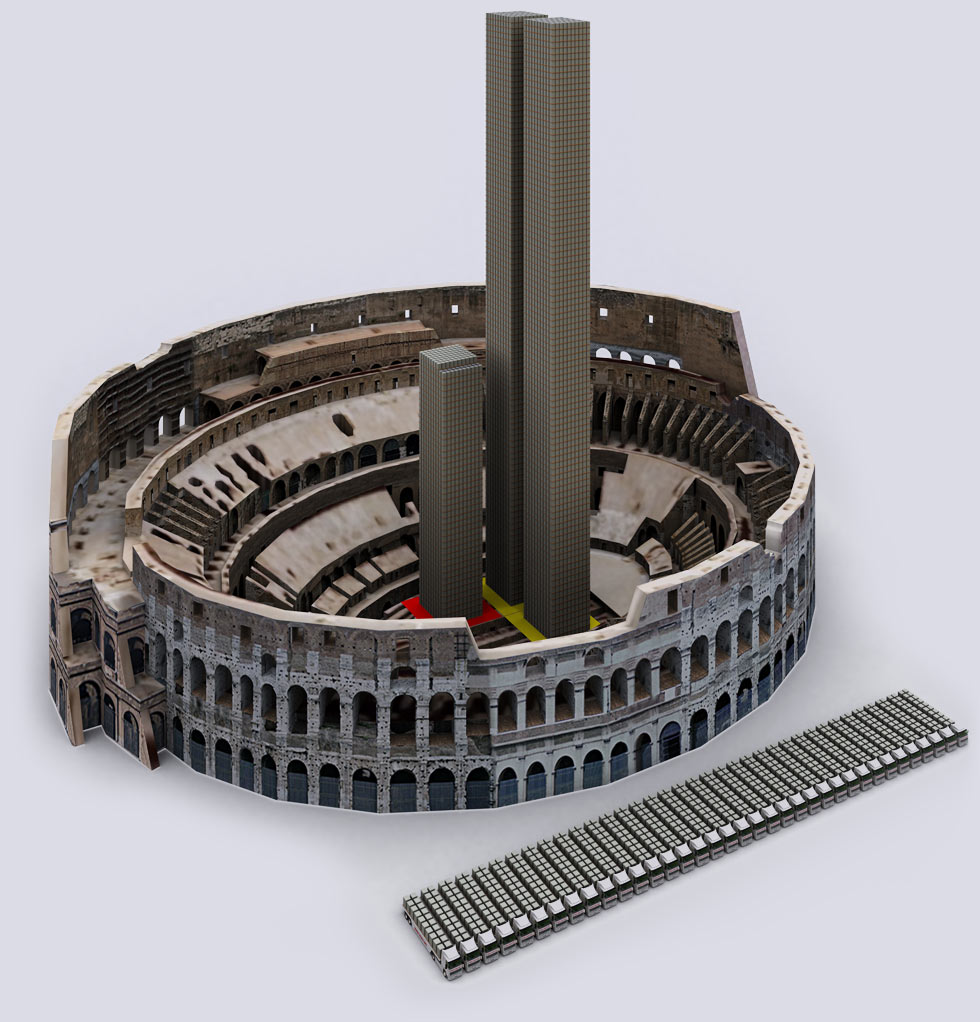 Germany
Germany is considered the flag-ship of European economies.

Germany holds a 78.8% debt ratio to economy, above the 60% limit standard set by EU for stability, while being mad at Greece and PIIGS for doing the same.

Germany faces a $285 Billion USD repayment/refinance of debt in 2012 but sees no problem of finding lenders, since Germany´s economy
looks great compared to the rest of the industrialized world.
2012
Interest
2012
Repayment
Standing
Debt
Total
Debt
$45B
$285B

$2304B

$2634B
United States of America
USA is the nation with most debt by far in the history of human civilization.

USA´s total debt, including personal debt, real estate (mortgage) debt, consumer debt, credit card debt and government debt totals
a mega $47,992 Billion USD ($47.9 trillion), roughly 2400 trucks full of money. Source: US Debt Clock

USA borrowed $1229 billion in 2011 - roughly 2.5x towers of cash in the background. USA runs a mega ~35% budget deficit,
far above the 3% max limit set by EU for economic stability standard.
With industrialized world economies in crisis, USA faces little problem to finance its budget deficit in 2012 since world´s money
is currently flowing into USA in great numbers as investors try to find "safety" where to store their money, since Europe is
not safe; neither are banks. As long as USA has access to cheap credit due to scared investors willing to hand over their money in
name of "safety", USA´s interest payments will remain far below normal. As of Feb 2012, the debt numbers are following:
2012
Interest
2012
Repayment
Standing
Debt
Total
Debt
$212B
$2783B

$12532B

$15527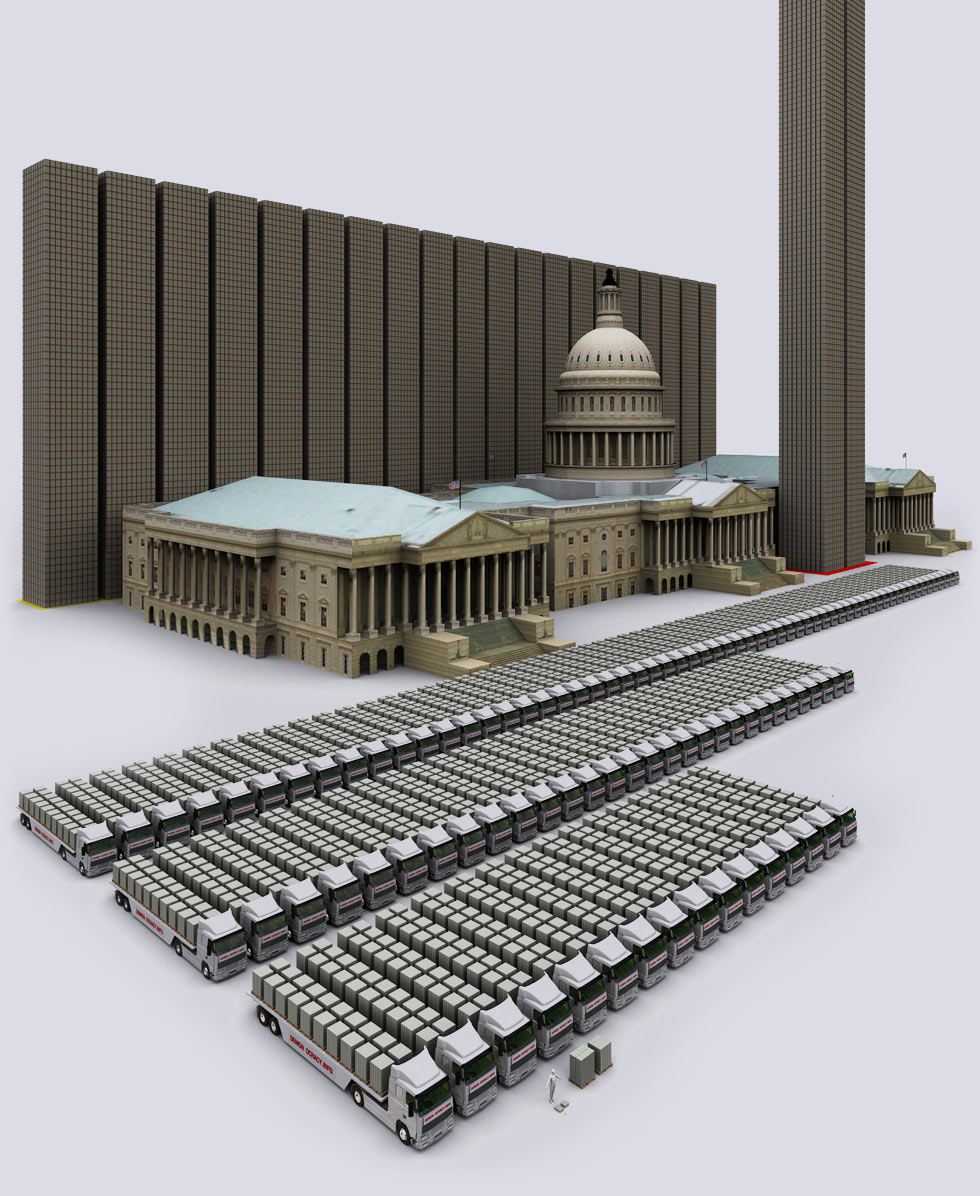 Japan
Japanese debt stacked around the destroyed Fukushima Nuclear Power Plant. Japan could have built a wall of money to keep Fukushima safe from the Tsunami, with all the money they borrowed.
Fukushima Power Plant compared to the trucks is GIANT.

Japan is a unique example. It holds a MASSIVE 225% debt to economy ratio. This is only possible because of loyalty of Japanese people to the Japanese government. Japan´s people are the main buyers of Japanese government debt, and as long as they blindly buy the debt, and interest rates don´t go up, they can practically run up the debt indefinitely. The issues start when everyone starts wondering how they will get the money back.

While historically having a good export surplus; Japan still has two "lost decades", where it has experienced no economic growth. This is mainly due to the large amounts of debt.
2012
Interest
2012
Repayment
Standing
Debt
Total
Debt
$117B
$3000B

$9324B

$12441B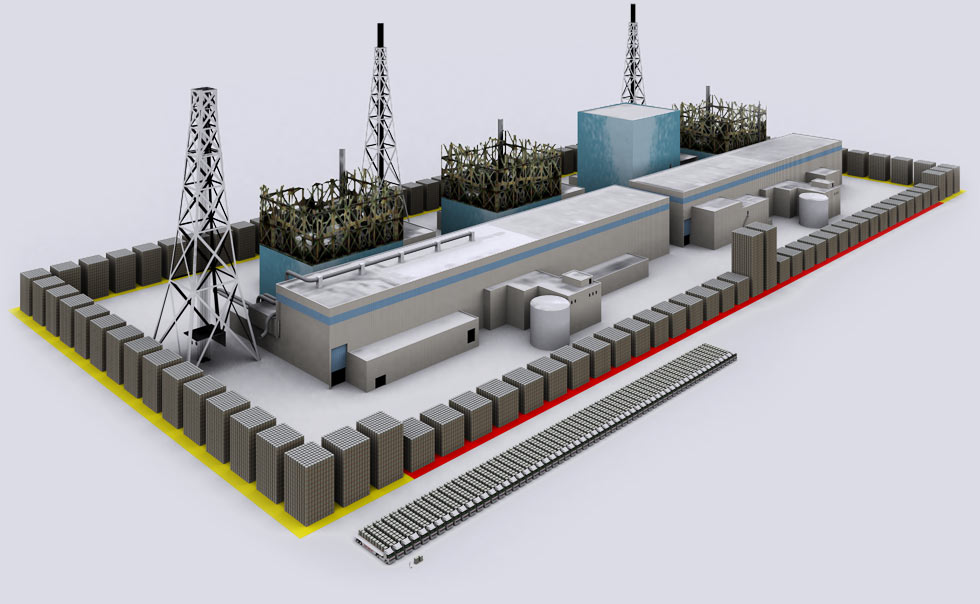 RUSSIA
$1479B
$45B
$23B
$13B
$9B

CANADA
$1577B
$535B
$298B
$221B
$14B
CHINA
$5878B
$1069B
$907B
$121B
$41B
BRAZIL
$2090B
$1073B
$873B
$169B
$31B

INDIA
$1631B
$1211B
$1115B
$57B
$39B
UNITED
KINGDOM
$2250B
$1611B
$1379B
$165B
$67B
FRANCE
$2562B
$2193B
$1772B
$367B
$54B
ITALY
$2055B
$2500B
$2000B
$428B
$72B

GERMANY
$3286B
$2634B
$2304B
$285B
$45B
JAPAN
$5458B
$12441B
$9324B
$3000B
$117B
USA
$14526B
$15527B
$12532B
$2783B
$212B
Total Debt:
$40.83 Trillion
Economy (GDP)
Total Debt
Standing Debt
2012 Repayment
2012 Interest
A World in Debt
The world is in debt - A whole city of sky-scrapers of cash.
The countries together face a $7600 Billion USD (7.6 Trillion) dollar debt repayment/refinance tab in 2012.
The towers are maxed-out at 100 stories of $10 billion dollar platforms.

To understand how we got in this borrowing mess, you must trace the path of money, where it comes from and how it is created. For starters: Money is "created" at the Central Banks of the World.

Money creation is never taught in school, while being one of the most important things deciding your
well being. In USA it comes from the Central Bank (private organization) dubbed the Federal Reserve.
You owe to yourself to understand the fundamentals of money, since money controls you,
just like your boss controls you with money.
If you want to be a free person... you must understand the forces that control you.


For further information & documentaries on money creation explore truththeory.org´s
documentaries and/or watch the documentary Fiat Empire


Read more at the original source:
http://demonocracy.info/infographics/usa/us_debt/us_debt.html