There is no commercial substitute for potash in fertilizers. It improves crop yields by helping plants absorb water, and provides some protection from drought, disease, pests and cold temperatures.
Potash plays a central role in assisting feed the world's growing population. It has been demonstrated to virtually double crop yields in many regions of the world, especially in emerging economies.


Furthermore, potash-based fertilizer is crucial to realizing meaningful cost containment while boosting crop yields. The world is increasingly waking up to potash's paramount role in food production. This is because various global government organizations, such as the United Nations, have begun to issue grim warnings about the urgent need to drastically improve year-on-year crop yields.
Macro Drivers Support Long-term Potash Demand Growth
Over the past couple of years, the fertilizer market has been in a state of demand deferral, not demand destruction. This is due to an anaemic post global financial crisis economy, which has suppressed demand. On a more positive note, crop commodity prices remain historically high. And potash application is a key component of fertilizers and thus represents a cost-efficient means of maximizing yields.
It is also worth noting that global grain prices remain historically high as a result of increased demand from emerging economies, which require crops like corn and wheat as key inputs for producing protein-dense foods, primarily meat.
Along with population growth, this helps explain why demand has grown from 31 million tonnes of KCI in 1970 to 57 million tonnes in 2012. This is a 21-million tonne increase (around 83%), which is mainly attributable to increased demand from China, India, and Brazil.
According to the United Nations' Food and Agriculture Organization (FAO), global food production will need to increase 70% by 2050 in order to feed a projected global population of between 9 and 10 billion people – an increase over 2014 of between 28% and 43% more hungry mouths.
Up to 90% of this growth is expected to be generated by improved crop yields, according to investment industry analysts. Improved fertilizer application will play a critical role in achieving this target, with potassium (potash) being the most crucial component for success.
Such key macro drivers underpin the future prospect of a long-term demand rebound and a recovery of higher-trending potash prices, beginning by 2015, according to leading investment industry analysts. In particular, an acceleration of demand from China, alone, is expected to boost overall demand by the end of this decade by an additional 10 million tonnes of potash.
Much of China's potash demand growth is expected to come from further expansions in the cultivation of cash crops, i.e. fruits and vegetables. This sector currently accounts for around half of all potash fertilizer consumption and requires a higher proportion of potash than grain crops.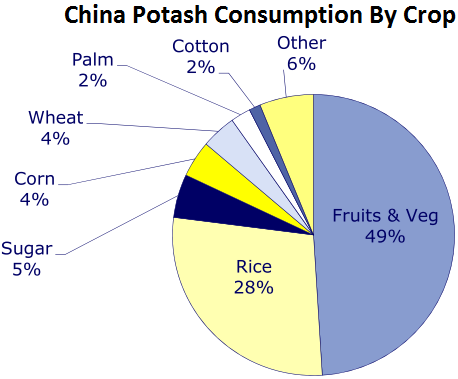 As for rice, wheat, and corn farming, prices are kept artificially low in China by way of government-imposed price controls. This has historically made this sector a low margin business for farmers.
However, the recent advent of land reforms has paved the way for the consolidation of farmland and the associated emergence of farming cooperatives.
In turn, this popular trend should allow for greater economies of scale to be realized. As a result, farming cooperatives are incentivized to invest more in the application of potash-based fertilizers and other key inputs.
All told, Chinese demand for potash is expected to virtually double by 2020 to around 20 million tonnes a year, according to analysts who closely follow developments in the Chinese farming industry (including Credit Agricole Securities, which cautions that Chinese potash demand may remain unchanged until around 2015).
Hence, the race to build up Canada's potash supplies because of a heightened need to maximize global crop yields is turning Saskatchewan's potash fields into key strategic assets.
This explains why several of the world's biggest mining companies are now jostling for position to access these rich potash reserves – against a backdrop of rising crop prices and an additional 75-80 million people that need to be fed each year.
Ramping-Up Chinese Food Production: The Challenges Ahead
According to investment industry analysts, if China is to achieve food self-sufficiency, much more money will have to be invested in its agricultural sector – especially in potash-based fertilizers.
However, China faces some serious structural challenges in its drive to produce more crops, especially grains for livestock that is destined for meat production.
First, China's arable land base is shrinking due to the competing forces of land development for residential housing and industrial expansion.
Second, climate change (think heat waves, droughts, water shortages, floods, and hurricanes) is negatively impacting crop yields in some areas of China.
All told, this means that more crops will have to be produced from even less land.
Among the investment industry analysts following the quantum shift in China's food dynamics is David Murphy, Head of China Reality Research (CRR), a division of the Hong Kong-headquartered investment bank Credit Lyonnais Securities Asia (CLSA), who said in a research report entitled Future Fields: Change and the Chinese Farmer:
"The authorities are actively looking to boost both the acreage and yield of major grain crops. For farmers, increased application of fertiliser is the most common way to increase yield, with 70% of farmers (surveyed by China Reality Research) ranking 'more fertilizer' as the top choice for higher yield."
In fact, China needs to almost double its potash application by 2020 in order to make up for a current shortfall in the amount of potash it uses in its fertilizer products, according to Murphy and other investment industry analysts at CLSA.
Currently, most Chinese farmland is not anywhere near as productive as it could be as "low-to-medium-yield farmland accounts for 70% of total farmland in China" according to Murphy.
Inefficiencies of China's Agricultural Industry
• China faces major structural issues that currently impede farm production. They include water shortages, soil erosion, flooding and climate change;
• China has a growing reliance on crop imports, especially corn;
• Rice production aside, China needs to boost its corn and wheat output – especially to provide livestock feed for animals;
• Misapplication of fertilisers (relying solely on cheap inputs like nitrogen and phosphate at the expense of potash) leads to soil hardening and degradation, which generates lower yields;
• Improper application of fertiliser is blamed for soil degradation in much of China;
• Low- to medium-yield farmland accounts for 70% of farmland in China and less than half of the arable land is effectively irrigated;
• It is commonplace for farmers to plant the same crops year after year, rather than using crop rotation. This puts stress on the soil, which makes increased potash application all the more necessary to prevent the soil's fertility from continuing to deteriorate.
Inefficiencies in Small-Scale Chinese Farming
• China's farms are tiny, inefficient, and under-mechanized. The average farm size is between 0.5 to 1.0 hectares;
• In many regions, +90% of all farms are for subsistence;
• As a consequence of poor earnings, a majority of farmers are part-timers;
• Limited access to funding makes it difficult for small farmers to invest in their land holdings to boost output;
• Relatively expensive inputs like potash-based fertilizers for subsistence farmers (the majority) have not historically been economically viable;
• Small farmers do not have the resources to invest, the scale to benefit, and the technology to drive significant production gains.
China's Farming Reforms: An Economic Imperative
The ascendancy of China's industrialized economy has in recent years created a new challenge:
A better-paid urban workforce is demanding much more meat in their diet than ever before, as well as more plentiful fruits and vegetables.
This means that China needs to produce significantly more wheat and corn for raising beef cattle, broiler chickens, and pigs. Especially since it feeds 20% of the world's population with only about 7% of the world's arable land.
Additionally, the need to produce more protein-dense food is being compounded by China's population growth, which will be accelerated by the recent relaxing of China's longstanding one child per couple policy.
Most notably, China's less affluent rural population is expected to grow from around 650 million today to more than 900 million within the next two decades.
And thanks to an anticipated increase in income, they are going to follow the lead of their city cousins by improving their diets with more meat.
Farming Co-Ops: A Key Catalyst for Increased Potash Usage
New land reforms in China are making it possible for subsistence farmers to pool their resources by way of establishing self-directed farming collectives or co-operatives. In other words, farmers are gradually being allowed to combine small plots of land into large farms. This development is paving the way for the farming industry to boost output by way of the realization of meaningful economies of scale.
Also, the central government is advocating the issuance of long-term land leases for farmers. In turn, this game-changing initiative incentivizes farming cooperatives to make long-term investments in the land, such as improved agricultural inputs. Such a paradigm shift means that farming collectives should benefit from a more scientific application of potash-based fertilizers. In comparison, most small independent farmers currently do not use fertilizers to best effect. They tend to use cheap ones that have little or no potash content. Just as importantly, these land reforms also encourage the mechanization of farmland, and on a much larger scale than ever before.
Accordingly, this re-energizing of the farming industry should prove to be the most effective way for farmers to exponentially increase output and boost their incomes.