Last month, True Leaf Medicine International Ltd. announced to enter the US pet food market thanks to a major contract with a US distributor supplying its hemp-based dog treats to more than 3,000 pet stores across 29 US states. Hereupon, True Leaf's stock has appreciated confidently from $0.13 to $0.21. Today, the company announced to now have doubled the number of US pet stores to more than 6,300. This material news marks a major milestone for True Leaf in respect to growth through generation of significant sales revenues. Of note: Yesterday, Canadian health minister Jane Philpott announced that federal legislation to legalize marijuana will be ready in a year. Health Canada may grant a number of new marijuana production licenses to Canadian companies in the upcoming months.
When True Leaf participated at the Global Pet Expo in Orlando (USA) in March, a number of US distributors and retail chains moved to bring in True Leaf's product line and have agreed to offer the products to their customers. In total, True Leaf has now secured distribution coverage to over 6,300 stores across the US and is looking to roll out more products in time for the upcoming SuperZoo expo in Las Vegas.
"We expect to secure distribution to 100% of the US specialty pet market by this fall and be in a great position to grow our brand," confirmed CEO Darcy Bomford. The hemp-focused product line is sold as a dietary supplement in a 'soft chew' format and appeals to consumers who are looking to substitute a daily 'treat' with something that supports their dog's health. Industry expert Kristen Levine, President of Fetching Communications, says consumers are looking for quality and transparency in brands they can trust. Bomford commented today:
"We are extremely pleased with the response to our True Hemp™ line of functional chews during and after the show. We are confident that we will continue to secure more distribution and retail partners as we move into the summer months and get ready for the SuperZoo show in Las Vegas this August. At True Leaf, transparency and trust are our core values. The industry is changing as quality-conscious millennials and baby boomers look for these values."
The following distributors and retail chains have agreed to offer True Leaf's product line in the US:
Southeast Pet
An Atlanta/Georgia-based distributor celebrating 41 years as the leading wholesale pet product distributor in the southeastern US. This specialty pet distributor covers 6 southeastern states with warehouses in Austell (Georgia) and Lakeland (Florida) totalling 15.794 m2 (170,000 sq.ft). The company has brought in the product line, including it in their recent customer trade show. Southeast Pet services more than 1,300 stores in Alabama, Florida, Georgia, North Carolina, South Carolina and Tennessee. At the close of 2015, the family owned and operated business was converted to an ESOP, making it the first and only 100% employee-owned wholesale pet product distributor in the US. Visit www.southeastpet.com for more information. Its President, Ryan Judge, commented today:
"At Southeast Pet, we are firmly committed to bringing new and innovative products to our independent pet specialty retailers and True Hemp has been a great addition to our lineup. This hemp-based functional chew was very well received by our retailers during our April 2016 Open House."
United Pacific Pet (UPP)
A southern California pet products distributor covering retailers, feed stores and veterinary clinics from San Diego to Bridgepor (California) and Las Vegas (Nevada) since 1918. UPP services over 1,500 stores from a 13,936 m2 (150,000 sq.ft) facility in Fontana (California) and signed up to distribute the True Hemp™ dog chews shortly after the Global Pet Expo. Visit www.uppet.com for more information.
In addition, a number of retail chains have come forward as new vendors, including:
Family Farm & Home®
A 50-store chain headquartered in Michigan. According to the company:
"We are proud to announce that Family Farm and Home is a family owned and operated company based out of Michigan. Our first stores opened their doors in April 2002. Currently we operate 46 retail location (34 in Michigan, 3 in Indiana, 9 in Ohio). We cater to our customers' needs by supplying a wide variety of products in departments such as tools, hardware, automotive, pet, work and casual clothing, footwear, farm supplies, horse and livestock feed, bird food, lawn and garden, and alternative heating. Here at Family Farm and Home, our outstanding team members are dedicated to providing incredible product values and exceptional customer service to all customers. Because of this commitment, Family Farm and Home has experienced rapid growth on all levels. Our continued growth in the future is limitless due to our devoted staff and constantly growing group of loyal customers. Have YOU joined the "FFH" family yet?"
Pet's Barn™
20 retail stores located in Texas. According to the company:
"Established in 1947 as Valley Feed and Supply, Inc., Pet's Barn is an El Paso, Texas based pet supply factory and retailer. Locally owned and operated, Pet's Barn is committed to providing Pet Supplies, Dog Food, and Pet Treats. We felt so strong about quality products and fair prices that we bought the factory and moved it to Texas."
Dirty Dogs™
A chain of 5 boutique pet stores located in San Diego, California. According to the company:
"Dirty Dogs is a one-stop-shop for all your pets' needs. We provide healthy nutritional foods, cage-free grooming, self-serve washing facilities, and many accessory products. At Dirty Dogs, we have based our company values on what's best for your four-legged friends. Our knowledgeable staff and fun atmosphere guarantee that you... Dirty Dogs is first and foremost a family business. As dog lovers and experienced dog owners, we take pride in fulfilling our communities' need for local stores where each product and service is a reflection of overall pet health. We want every dog to live life to the fullest! Our mission is simple: Provide San Diegans with the healthiest pet foods and top-of-the-line, natural dog grooming services for their four-legged loved ones while supporting local, dog-friendly communities. Our pet grooming team consists of handpicked dog and cat stylists each with in-depth knowledge of premium pet haircuts while maintaining a cage-free environment of animal compassion. We also have our premium, river rock U-Do-It tubs for customers who like to role their sleeves up and share in the dog bathing experience. The idea for Dirty Dogs was conceived by the Btesh family's youngest son, Joel. In 2007 Joel wasn't able to find premium dog foods and a fun dog washing facility for the family dogs, Revo and Moe. The family conceptualized Dirty Dogs as a place that not only provided premium services and foods, but also as a place where people could come to learn more about their pets and have positive experiences with them."
True Leaf's corporate office continues to field daily emails from retailers who want to carry the True Hemp™ Dog Chews.
Yesterday, Canada's Health Minister, Jane Philpott, told the UN that federal legislation to legalize marijuana will be ready in a year. Bill Blair, the parliamentary secretary to the justice minister who serves as Canada's point man on the legalization legislation, said: "It's a great deal of work. It's important to do it right. And so, we're looking at regulations with respect to production, distribution, the retail and consumption of marijuana and we want to make sure that it's based on the best advice from experts."
Rockstone sees this governmental legislation announcement as the start for Health Canada to licence multiple new marijuana producers in the upcoming months. Besides its hemp-based dog chews business, True Leaf has filed an application under Health Canada´s Marihuana for Medicinal Purposes Regulations (MMPR) to become a licensed producer with a facility located in the Village of Lumby, BC. The company has passed through the preliminary and enhanced screening process of Health Canada´s review and is currently awaiting a ´ready-to-build´ approval.
---
Federal marijuana legislation to be introduced in spring 2017, Philpott says

Legislation to legalize pot coming in 2017
By CBC News on April 20, 2016
Health minister in New York for UN talks to review global drug treaties
Federal legislation to legalize marijuana will be ready in a year, Canada's health minister told the UN at a special session of the General Assembly in New York today.
"We will introduce legislation in spring 2017 that ensures we keep marijuana out of the hands of children and profits out of the hands of criminals," Jane Philpott said in her prepared speech to delegates. "We will work with law enforcement partners to encourage appropriate and proportionate criminal justice measures. We know it is impossible to arrest our way out of this problem," she said.
Philpott, Blair in New York to attend UN talks on war on drugs
Delegates are reviewing the progress and implementation of the UN's 2009 action plan on drugs to assess ongoing challenges in combating the world's drug problems. Three days of meetings will conclude Thursday.
Bill Blair, the parliamentary secretary to the justice minister who serves as Canada's point man on the legalization legislation, is with Philpott in New York.
"It's a great deal of work. It's important to do it right. And so, we're looking at regulations with respect to production, distribution, the retail and consumption of marijuana and we want to make sure that it's based on the best advice from experts." Blair told reporters on his way to the meetings on Tuesday.
The health minister said the government's proposed marijuana policy challenges the status quo, but will enhance the safety of youth. The federal Liberal Party's election pledge on pot would breach three global treaties on illicit drug use signed by previous Canadian governments.

Mulcair to Trudeau: Remove criminal pot records
Canada's plans are contentious for some other UN members. Philpott said that she is aware states will take different approaches on the matter, but is hopeful they can find common ground to create a comprehensive, collaborative and compassionate drug policy.
Immediate decriminalization?
NDP Leader Tom Mulcair told reporters he believes the legalization policy proposed by the Liberals is just another broken promise. He says the only thing the Liberals have done so far is appoint Bill Blair.
"There are thousands and thousands of mostly young people who will have criminal records for the rest of their lives because (Prime Minister) Justin Trudeau did not respect his promise to legalize marijuana as soon as he took office," he said.
Mulcair said if the Liberal government found the issue too complicated they should immediately decriminalize marijuana and address complex issues like supply later.
"It's a massive waste of time, effort and energy of our entire criminal justice system," he said.

Pot legalization legislation coming in 2017
Later, during question period in the House of Commons, Mulcair asked whether Trudeau would at least promise legislation to remove criminal records of Canadians charged before a new law is in place.
In response, Trudeau said simply decriminalizing marijuana does not help the government meet its goal of keeping pot out of the hands of children, but would offer a legal stream of income to criminals selling it.
"The fact of the matter is we've been clear. We believe in legalization and regulation of marijuana because it protects our kids and keeps money out of the pockets of criminal organizations and street gangs," Trudeau told the Commons.
Conservative MP Colin Carrie told the CBC's Susan Lunn that the announcement from health minister Philpott has done nothing but create more chaos surrounding the issue.
"It's in their hands whenever they want to bring it forward, It's unfortunate though that they're causing so much chaos with parents in communities and police forces. At the end of the day what is important to us is about the kids. Mr. Trudeau said he is keeping it out of the hands of kids ... let's get him moving forward on that," he said.
Carrie believes legalization is not necessary.
"If you look at the statistics that are out today, the status quo has been working. Marijuana smoking is down 23 per cent in the last few years. But he's brought this up, he's made it an issue let's see what his plan is," he said.

NDP leader Tom Mulcair, right, poses with a pro-marijuana advocate on Parliament Hill Wednesday. (Jennifer Choi/CBC)
Cannabis culture demonstrations are underway across the country as pro-marijuana advocates gather in support of legal use on a day known as "4/20."
Philpott told CBC's Rosemary Barton that the announcement was not purposely made on "4/20," but the government capitalized on the opportunity to further the discussion.
"It's a day that we know people are going to be talking about marijuana and when we were aware of that fact we thought it was a great day for us to talk to people around the world about Canada's plans and our comprehensive approach to drug policy, including the legalization of and new regulations for marijuana," said Philpott on CBC News Network's Power & Politics.
Demonstrators, many of them smoking the drug, also gathered on Parliament Hill. Some members of the crowd were greeted and took photos with Mulcair.
Dominion carillonneur Andrea McCrady used her noon concert from the Peace Tower to play arrangements of tunes perhaps inspired by the gathering, including Puff, The Magic Dragon.

Pro-legalization demonstrators gather on Parliament Hill on Wednesday, known as 4/20 for the date April 20. (Jennifer Choi/CBC)
---
About True Leaf
True Leaf Medicine International Ltd., through its wholly-owned subsidiary 'True Leaf Pet', is entering the $60 billion pet industry with a line of hemp-focused chews and supplements marketed through natural pet health and veterinary channels in Canada and USA. The company has also filed an application under Health Canada's Marihuana for Medicinal Purposes Regulations (MMPR) to become a licensed producer through its 'True Leaf Medicine' subsidiary.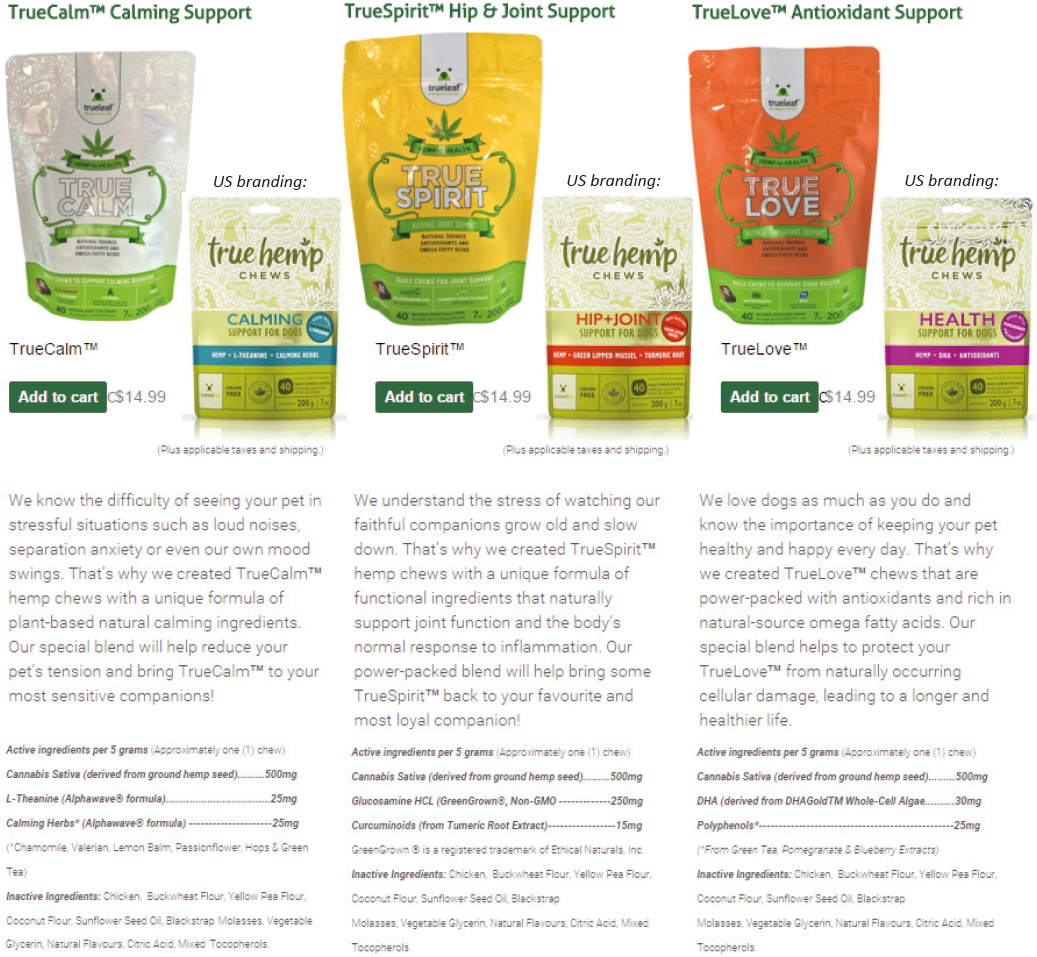 Hemp is Not Marijuana
True Leaf's pet product line contains hemp as one of the primary ingredients; providing the health benefits of hemp is what sets True Leaf apart from the competition. Hemp and marijuana are different varieties of the same plant species of 'Cannabis Sativa'. Marijuana plants contain high levels of THC. Hemp, on the other hand, is non-psychoactive and contains very little THC (less than .3% by law), but certain cultivars contain cannabidiol (CBD). Hemp seed oil, a major component of hemp seed itself – and of True Leaf Pet's product line – has a variety of beneficial properties and is showing great promise on its own as a supplement. Because hemp oil is extracted from the industrial hemp plant, it contains no psychoactive reactors.
Hemp seed oil is extremely high in omega-6 and omega-3 fatty acids in the ratio of 3:1, which is required by dogs for optimal health and well-being. Hemp contains known antioxidants from tocopherols and hosts a variety of other beneficial properties including anti-inflammatory compounds from terpenes, plant sterols and methyl salicylate – a relative of acetylsalicylic acid or 'aspirin'.
Hemp oil helps to support the moisture level in a dog's skin and fur, and supports the body's ability to heal skin disorders such as dry nose, dog acne, dog eczema, dog rash and dog dandruff. Further, hemp seed oil supports the body's ability to enhance blood circulation, stimulate a dog's cognitive thinking and can help thicken fur texture and lessen shedding. Hemp is legally refined in industrial factories for textile and nutritional use: it is often consumed and mixed into other products including cereal, granola bars and hemp dog treats.
Hemp chews for dogs are increasing in popularity because of its significant potential health benefits that may include joint pain reduction, skin and coat nourishment and antioxidant support.
• Contains omega fatty acids
• Has anti-inflammatory properties
• Supports the body's ability to enhance circulation and stimulate cognitive development
• May help thicken fur texture, moisturize skin and lessen shedding.
---
Company Details
True Leaf Medicine International Ltd.
100 Kalamalka Lake Road, Unit 32
Vernon, BC V1T 9G1, Canada
Phone: +1 778-389-9933
Email: kevin@trueleaf.com
www.trueleaf.com
Shares Issued & Outstanding: 42,090,281
Canadian Symbol (CSE): MJ
Current Price: $0.21 CAD (April 20, 2016)
Market Capitalization: $9 million CAD
German Symbol / WKN (XETRA): TLA / A14NM1
Current Price: €0.168 EUR (April 21, 2016)
Market Capitalization: €7 million EUR
---
Analyst Coverage
Research #12 "True Leaf To Sell Hemp-Based Products in 3500 Stores in the US" (March 29, 2016)
Research #11 "True Leaf's Product Line Now Available in 47 Canadian Retail Stores" (February 9, 2016)
Research #10 "True Leaf's Selling Fast" (December 10, 2015)
Research #9 "True Leaf Expands to Europe" (November 2, 2015)
Research #8 "True Leaf Unveils New Product Line" (September 17, 2015)
Research #7 "Another Key Piece for the True Leaf Puzzle" (September 8, 2015)
Research #6 "True Leaf Pet's Hemp Chew Product Line to be Distributed Across Canada" (August 12, 2015)
Research #5 "Interview with True Leaf's CEO Darcy Bomford" (August 6, 2015)
Research #4 "One Step Closer Becoming A Licenced Medical Marijuana Producer" (July 21, 2015)
Research #3 "True Leaf on its way to production" (June 5,2015)
Research #2 "True Leaf To Enter The Pet Food Market With Hemp Products In Fall of 2015" (April 9, 2015)
Research #1 "True Leaf Medicine International Ltd. Goes Public" (February 9, 2015)
Disclaimer: Please read the full disclaimer within the full research report as a PDF (here) as fundamental risks and conflicts of interest exist.