Outcrop of lithium-bearing spodumene mineralization at "Dyke 1", one of seven known pegmatites on the Zoro Lithium Property near Snow Flake in mining-friendly Manitoba.
With a current market capitalization of $4 million CAD, Far Resources Ltd. (CSE: FAT; Forum) has recently completed a phase-1 drill program on its Zoro Property near Snow Lake in mining-friendly Manitoba, Canada. A total of 7 holes over 1,142 m (163 m/hole on average) have been drilled into the lithium-rich pegmatite known as "Dyke 1".
Rockstone initiates coverage of Far Resources as the large Zoro Property offers great potential to be quickly advanced to a world-class lithium project. Sampling rocks from surface is an important first exploration phase, yet it's drilling that counts and provides most upside potential. Assay results are expected within the next 3-4 weeks.
Not so long ago, Nemaska Lithium Inc. reported results from a first grab sampling program on its Whabouchi Property in Québec, with grades averaging about 2.88% Li2O. Subsequent drilling delineated indicated resources of about 15 million t averaging 1.54% Li2O; i.e. a word-class lithium deposit, currently in development to become a mine in the next years.
In July 2016, Far Resources reported assays from a rock chip sampling program of 3 separate pegmatites/dykes on its Zoro Property (515 hectares):
• Dyke 2 averaged 3.12% Li2O
(2 samples)
• Dyke 4 averaged 2.41% Li2O
(1 sample)
• Dyke 5 averaged 3.93% Li2O
(4 samples; 2 exceeded 6% Li2O)
Average of all 7 samples: 3.48% Li2O
In 1956/1957, when lithium prices and demand were very low, a total of 78 shallow holes were drilled at Zoro, identifying 7 pegmatites. About 60% of these holes were drilled into Dyke 1, delineating a (historical) "reserve" estimate of 1.8 million t averaging 1.4 Li2O. The encountered grades and widths, up to 1.4% Li2O over 49.8 m, would be considered world-class today; however these are considered historical and thus non-compliant with NI43-101.
The objective of the phase-1 drill program is to verify historic grades and widths of Dyke 1 (phase-2 to expand known mineralization and to drill test other pegmatites sampled this summer). Historic drilling was shallow to only test for near-surface mineralization, however it was noted that the pegmatites thicken at depth and remain largely untested below 200 m from surface.
Criteria facilitating Zoro to quickly advance to a world-class lithium project with the recently completed and upcoming drill programs:
• Highly favourable metallurgy expected due to low impurities, such as iron, and a coarse-grained spodumene mineralization (white to light-greenish colour, similar to Whabouchi).
• Nearby infrastructure (power line: 4 km; road: 11 km; airport: 12 km; rail: 34 km).
• 7 known pegmatites provide significant resource definition potential in 2017. Sampling may identify new anomalies; stripping and trenching of anomalies may discover hidden pegmatites.
• By-product potential (e.g. tantalum, caesium, rubidium) remains unknown. The Tanco Mine (Cabot Corp.) in southeast Manitoba used to produce lithium-bearing spodumene, and tantalum; currently producing only caesium (the world's largest known pollucite deposit, accounting for 2/3 of known global resources).
• Mining-friendly community (Snow Lake) and province (Manitoba) in a safe and stable jurisdiction. First Nation consultation and engagement not required in the Flin Flon-Snow Lake greenstone belt where the Zoro Property is located.
"Although lithium metal prices were first reported in trade publications in 1952, demand was very low. From 1952 to 1974, lithium prices remained flat in terms of current dollars; in terms of constant dollars, however, prices decreased. The potential use of lithium in batteries for electric vehicles was first discussed in the Minerals Yearbook in 1972. The downward trend in lithium metal prices reversed in 1974." (Joyce A. Ober in USGS 1999)
Dyke 1
Historic exploration in the mid-1950s included mapping, sampling, trenching and drilling. Shallow drilling was performed only to depths of about 200 m from surface and included the following intercepts:
• 49.8 m averaging 1.4% Li2O
• 22.8 m averaging 1.2% Li2O
• 18.3 m averaging 1% Li2O
• 7.9 m averaging 1.2% Li2O
• 15.2 m averaging 1% Li2O




Strong Newsflow Ahead
Most recently on November 17, Far Resources' announced completion of its phase-1 drill program, which was designed to validate and expand on the results of historical drilling and related assays of Dyke 1. Information from historical drilling including collar locations and drill logs were combined with trench locations uncovered by Far Resources' consultants during a prior fieldwork program to produce a 3D model of the Zoro spodumene-bearing pegmatite Dyke 1. This model was tested by all drill holes in this program.
A total of 1,142 metres of NQ core were completed during the drill program, with all 7 holes intersecting the spodumene-bearing pegmatite Dyke 1. There was little deviation noted between the observed intercepts of pegmatite and those predicted by the 3D model prepared by Orix Geoscience. Subsequent to logging, a total of 143 sawn core samples were shipped to Activation Laboratories (Ancaster, Ontario), an ISO-certified laboratory for lithium assays and multielement analysis. Results are pending and will be reported when data are received.
Keith Anderson, President & CEO, commented:
"We are pleased that the first drill program on the property for 60 years has confirmed our geological model and interpretation. This will allow us to plan and optimize further drilling with confidence as we expand on the phase 1 program."
A phase-2 drill program in early 2017 is planned to expand known mineralization to subsequently delineate a NI43-101-compliant resource estimate. Other known spodumene-bearing dykes in proximity are also planned to be drilled in phase-2, thus providing significant resource definition and expansion upside for several potentially world-class hard-rock lithium deposits on the large Zoro Property in mining-friendly Manitoba.
With a current market capitalization of $4 million CAD, including the recently completed placement of 4.62 million shares in an oversubscribed financing, Far Resources is well-positioned to create significant shareholder value over the next weeks and months. Speaking of confidence, the drilling service providers agreed to get paid 40% in cash and 60% in shares from Far Resources.
Pictures from the recently completed Phase-1 Drill Program focusing on Dyke 1 on the Zoro Property:
Overgrown historic trench in spodumene-rich pegmatite Dyke 1:

Far Resources in Manitoba
Looking southwest from Zoro's Dyke 1 towards the lake that serves as water source for the drill program:
Manitoba is host to multiple rare metal deposits, including the world-class Tanco lithium-cesium-rare metal pegmatite at Bernic Lake. The region, where Far Resources is active, has a stable and well-developed mining and transportation infrastructure. Manitoba boasts a supportive business climate, mineral exploration-supportive assistance programs and excellent access to geoscience and exploration data that can assist Far Resources in advancing its project.
Far Resources' Zoro Property is situated in west-central Manitoba within the historic Snow Lake Mining Camp. The hydro line to Snow Lake is 5 km south of the property and the small historic gold mining community of Herb Lake is located about 10 km southwest. A rail link is located at Wekusko siding approximately 20 km south of Herb Lake.
Far Resources' Claim Map:
The Zoro Property is comprised of the Zoro1 claim (~52 hectares) near Wekusko Lake, governed by the option agreement with Top Notch Marketing Ltd., R. Ross Blusson and Double-U-Em Investments Ltd.; and the undivided 100% interest in and to pegmatite dykes on Claim Jake 3558 (P3558F) and a 350 m wide strip along the northeast edge of claim Jake 3558 and a portion of adjacent claims Bert 6304 (MB6304) and Bert 797 (MB797) that are contiguous with the Zoro1 claim pursuant to the option agreement with Strider Resources Ltd. as described in news releases dated July 5, 2016 and August 10, 2016. This acquisition expanded the property from 0.5 km2 to 3 km2, a 600% increase in highly prospective ground. One of the lithium-bearing dykes on the adjacent property, referred to as Dyke #5, was characterized by historic assays of 2.42% to 7.28% Li2O and attests to the potential lithium contents of one of the 7 known lithium-bearing dykes acquired. Zoro1 covers the significant lithium pegmatite known as the "Principal Dyke" ("Dyke 1").
During the summer 2016 prospecting program, a total of 47 pit and trench locations were located and mapped resulting in the definitive location of Dyke 6, a historic spodumene-bearing pegmatite dyke. Previously information from assessment files in the Manitoba Mining Recorder's office had been insufficient to establish the location of Dyke 6. Additional pegmatite-bearing outcrop was also located on the property. These outcrops show no evidence of exploration and will be tested with the upcoming phase-2 program.
---
Lithium: Brine vs. Hard-Rock
According to Deutsche Bank's "Welcome to the Lithium-ion Age" (May 9, 2016):
Lithium brine operations account for around 50% of global lithium supply, with hard-rock operations accounting for the remaining 50%. Lithium brine deposits generally have better economics as lithium is already isolated and in solution within the deposit, negating the requirement for drilling, blasting, crushing and physical separation. Brine operations also utilise solar evaporation to concentrate the brine within a series of ponds prior to purification. The downside of brine operations is that they are more capital intensive than hardrock operations, incur significant lead times to meaningful production (technical and geographical challenges), require economies-of-scale and have a long resonance time influenced by evaporation rates.
The global supply market for lithium products is around 171kt of lithium carbonate equivalent (LCE), with close to 83% of global supply being sourced from four major producers – Albermarle, SQM, FMC and Sichuan Tianqi. We believe demand outpaced supply in 2015 by around 13kt LCE, leading to a significant increase in prices for high-grade lithium products over the last 6-12 months. However, there are a number of new operations entering the global market this year. We expect supply to increase by 18% this year to reach 201kt LCE, however this will still not meet global demand (DBe 209kt LCE).
As global lithium demand increases over coming years, hard-rock operations will be able to respond to market conditions much faster than their brine counterparts. The Greenbushes mine in Australia (jointly-owned by Albemarle and Tianqi) is the world's largest spodumene operation and accounts for almost 40% of global lithium supply.
New operations are also coming to market, with Mt. Marion and Mt. Caittlin currently being commissioned.
As a comparison, the Mt. Marion project (owned by a JV between Mineral Resources, Neometals and Jianxi Ganfeng) is being built for A$50m and will produce 200kt of 6% Li2O spodumene concentrate, equivalent to 27kt LCE (US$1,400/t LCE) and will have a 12 month construction and ramp-up time frame. However, lithium concentrates are an intermediate product and need to undergo further refining into lithium carbonate or hydroxide before they can be used in batteries.
Spodumene
Hard-rock spodumene deposits are found within pegmatite intrusions around the world. Pegmatites are an intrusive igneous rock composed of large (>2.5cm) crystals; they are very hard ores that require significant crushing and grinding. Pegmatite-based lithium deposits are mined in Australia, China, Brazil, Portugal and Zimbabwe. The largest hard-rock project in the world is the Greenbushes asset owned by Sichuan Tianqi (51%) and Albemarle (49%).
Spodumene ores are crushed grinded and liberated into a 6% Li2O concentrate that can be used in industrial markets or converted downstream into batterygrade products. High-grade (7.5% Li2O), low-iron (less than 0.1% Fe2O3) spodumene concentrates are known as technical grade concentrate and can be directly used by downstream "technical markets" users, including glass, ceramics, fiberglass and continuous casting without further processing into lithium carbonate.
With the recent lithium feedstock shortage in China, a number of low-grade, high cost deposits have been restarted to sell to downstream processors. We believe non-spodumene hard-rock supply will be 5-10ktpa LCE in 2016 and do not foresee other minerals gaining significant market share as most current exploration is focussed on spodumene deposits.
Spodumene Processing
The processing route for hard-rock lithium ores follows a more conventional mining and processing approach, similar to many other hard-rock mining operations. Ore is mined via conventional drill and blast methods, then excavated and trucked to a central processing facility.
The ore undergoes multiple stages of crushing to reduce the particle size down to below 6mm. Lithium-bearing minerals like spodumene can be liberated from gangue minerals via dense media separation using either spirals and/or cyclones to separate particles based on density. Based on the individual deposits, some ores need to be further processed to liberate the lithium from other minerals, like micaceous minerals, which can be entrained with lithium in the crystal structure. To do this, floation is used, floating the lithium-bearing minerals and suppressing the gangue minerals. Further magnetic separation can be used to remove magnetite. The wet concentrate is filtered and prepared for transportation as a 6% Li2O concentrate.
Mining and Processing
The Mt. Marion project will be a standard open-cut mining operation, employing traditional drill & blasting techniques and conventional load & haul methods using a small fleet of trucks and one or two small excavators. Life-of-mine strip ratios are expected to be 3:1. The pegmatite ore is harder than many other commercial ores, which is likely to lead to higher mining costs than similar-sized operations elsewhere in WA. The processing plant is designed to have a nameplate capacity of 1.75Mtpa, however we note the primary crusher is oversized (we believe closer to 6Mtpa) which will be beneficial if further expansions are pursued. The theoretical yield of the processing plant design based on Mt. Marion ore is 15-16%, however the nameplate production rate of 200ktpa of 6% Li2O spodumene concentrate is conservatively based on a 11% yield.
---
Little Granite Gold-Silver Mine (USA)
Little Granite is a past-producing, high grade silver-gold mine located in the Black Range Mining District of New Mexico, USA.
The last significant production is believed to have been in the 1930s. More recently, an exploration decline was driven for approx. 152 m (500 feet)in the early 1980s, and a 7 hole diamond drill program carried out in 1984. Further work was deferred due to the collapse of the silver price in the early 1980s.
The ore is hosted by a low-sulphidation epithermal quartz vein which outcrops at surface over widths of 0.30-0.61 m but reportedly widens to 1.8-3.7 m at 76 m depth. This main vein (similar to the high-grade Midas and Sleeper Mines in Nevada, USA, and the Fruta del Norte discovery in Ecuador) has been traced for over 183 m by underground workings and exploration drilling. The vein remains open along strike to the north and south and at depth.
Bonanza grade silver ore shoots were reported in old mine records, and local very high grade values (>1,000 g/t silver) were returned from check assay samples collected by Far Resources.
Far Resources plans a Phase-1 sampling and drill program in early 2017 to confirm the validity of the reported 1984 drill results, with a more extensive Phase-2 program (including drilling and ground geophysics) to follow given success in the Phase-1 work.
In late 2013, Far Resources conducted a site-visit to the the historic Little Granite Mine area. 3 composite samples were collected from piles of quartz dump material near the mouth of the decline, reportedly excavated in the early 1980s. 2 of these samples, representative of the main style of quartz present, returned values of 179 g/t silver and 2.9 g/t gold, and 170 g/t silver and 6.7 g/t gold respectively. This material shows classic boiling textures and is thought to represent material from the upper part of a well-developed epithermal system. A third composite sample of fine grained grey "cherty" quartz material found on one of the dumps returned values of 1,439 g/t silver and 25.2 g/t gold. The latter result supports historic reports of "bonanza-grade" shoots being present within the main vein system mined. 2 further samples of quartz vein material exposed in the walls of a collapsed stope immediately north of the main shaft returned values of 226 g/t silver and 2.2 g/t gold, and 24 g/t silver and 0.3 g/t gold. Both of these samples may have been subject to surface leaching effects.
---
Management & Directors
"Our mission is to leverage our experienced management team that has sought out underdeveloped projects, with low barriers to production. Our goal is always to minimize the time it take to take our resources from the ground to production. We have located and acquired two key projects that fall within our strategic focus – one in Canada and the other in the U.S., two great jurisdictions. We are working to advance both of these to the next stage so we can unlock their full value for our shareholders." (CEO Keith Anderson; pictured above)
Keith Anderson (President & CEO)
Mr. Anderson is a former Vice-President and registered representative with Canaccord Capital Corp. (now Canaccord Genuity Corp.) and has been involved in the securities industry, primarily in the resource sector, for >25 years. In 2009, he took over as President of Far Resources and is primarily responsible for the day to day management of the company.
Cyrus Driver (CFO & Director)
Mr. Driver is a Chartered Accountant with 30 years of experience in the financial reporting and auditing of publicly traded companies. He is currently a partner with Davidson & Company LLP, Chartered Accountants. Mr. Driver has also acted as a director and/or held senior management positions with various publicly listed companies and is currently a director and/or officer of, among other companies, Nevada Exploration Inc., Orko Silver Corp. and Aldrin Resources Corp., all listed for trading on the TSX Venture Exchange.
Mark Fedikow (P.Geo)
Dr. Fedikow has been an exploration geochemist and mineral deposits geologist with >40 years of experience in industry and government. He is a Fellow of the Association of Applied Geochemists and a past councillor of the Association of Applied Geochemists, and has served on a number of industry-related committees. President of Mount Morgan Resources Ltd. since 2002. He pioneered the application of regional multimedia geochemical and mineralogical surveys in support of base and precious metal and diamond exploration in Manitoba.
Frank Anderson (Director)
Mr. Anderson has been providing management and consulting services to publicly traded companies for >30 years, with an emphasis on junior resource companies. During his career, he served as president and director of a number of junior public companies, including L.G.R. Resources Ltd., Consolidated Agarwal Resources Ltd., and Pacific Talc Ltd., a junior resource company involved in the exploration of talc.
Lindsay R. Bottomer (Director)
Mr. Bottomer is a professional geologist with >40 years of experience in worldwide mineral exploration and development, including the Snip, Eskay Creek and Goldstream Projects in BC and more recently the Oyu Tolgoi Copper-Gold Project in Mongolia and the Ann Mason Copper Project in Nevada, USA. He has worked for several exploration companies, including Richfield Resources until its takeover by New Gold, and most recently as VP Business Development for Entrée Gold. He holds a B.Sc. (Honours) degree in geology from the University of Queensland and a M.Sc. degree from McGill University. He is a member of the Association of Professional Engineers and Geoscientists of BC and a Fellow of the Australian Institute of Mining & Metallurgy. He is also a past President of the BC and Yukon Chamber of Mines and served for 6 years as an elected councillor on the Association of Professional Engineers & Geoscientists of BC.
Jeremy Ross (Director)
Mr. Ross has >17 years in corporate development and marketing for smallcap to mid-tier mining and petroleum companies. With a comprehensive network of institutional and retail relationships, he has planned and implemented numerous marketing campaigns. He was the Corporate Development Consultant for Fission Energy and played a key role in growing investor awareness up until its major sale of assets to Denison Mines. In 2013, Mr. Ross was appointed to the Board of Directors of Fission Uranium and was appointed to the Fission 3.0 Board of Directors following Fission Uranium's acquisition of Alpha Minerals.
R. Stuart (Tookie) Angus (Advisor)
Mr. Angus is an independent business advisor to the mining industry and currently sits as Chair of Nevsun Resources Ltd. He was formerly Head of the Global Mining Group for Fasken Martineau. For the past 30 years, he has focused on structuring and financing significant international exploration, development and mining ventures. More recently, he was Managing Director of M&A for Endeavour Financial. He is the former Chairman of the Board of BC Sugar Refinery Ltd., and Director of First Quantum Minerals until June 2005, a Director of Canico Resources Corp. until its takeover by CVRD, a Director of Bema Gold until its takover by Kinross in 2007, a Director of Ventana Gold until its takeover by AUX Canada in 2011, and a Director of Plutonic Power until its merger with Magma Energy in 2011.
Shastri Ramnath (Director)
Ms. Ramnath is a Professional Geoscientist with >17 years of global experience within the exploration and mining industry. She is the co-founder, President, CEO and Principal Geologist of Orix Geoscience and has worked as the CEO of Bridgeport Ventures, as well as in technical roles focused on exploration and resources at FNX Mining and Falconbridge. She holds a B.Sc. in Geology from the University of Manitoba, a M.Sc. in Exploration Geology from Rhodes University (South Africa), and an Executive MBA from Athabasca University. Keith Anderson commented: "We are confident that Ms. Shastri's experience and expertise in exploration, particularly in Manitoba, where our Zoro Lithium Property is located, will help us advance the project and build solid data that can be used for future exploration and reporting purposes."
---
Company Details
Far Resources Ltd.
Unit 114B – 8988 Fraserton Court
Burnaby, BC V5J 5H8 Canada
Phone: +1 604 805 5035
Email: info@farresources.com
www.farresources.com
Shares Issued & Outstanding: 51,506,000
Canadian Symbol (CSE): FAT
Current Price: $0.075 CAD (11/21/2016)
Market Capitalization: $4 million CAD
German Symbol / WKN (Frankfurt): F0R / A2AH8W
Current Price: €0.043 EUR (11/22/2016)
Market Capitalization: €2 million EUR
---
Stay Tuned!
For smartphones and tablets, an APP from Rockstone Research is available in the AppStore and in the GooglePlayStore.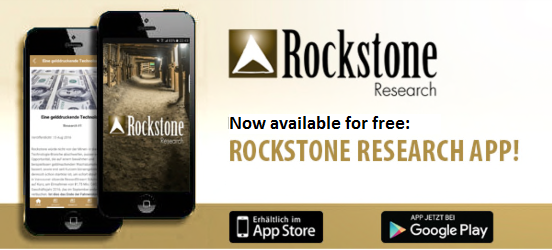 Disclaimer: Please read the full disclaimer within the full research report as a PDF (here) as fundamental risks and conflicts of interest exist.