The Kibby Basin, 65 km north of the Clayton Valley (Basin Removed Topography Looking South-Southwest; presumably this would be the topography if the basin fill was removed)
Today, Belmont Resources Inc. reported that the 3D interpretation of the recently completed gravity survey on its Kibby Basin Property in Nevada has been received from Wright Geophysics Inc. The results have further enhanced the potential to host lithium-bearing brines in a geologic setting similar to the continental brine model ascribed to the Clayton Valley. The company is now extending the land position to the east (to cover a major structure bounding the basin's east side) and to the north-northeast (to cover a portion of the deep part of the basin).
Belmont has received a Gravity Survey Interpretation Report from Wright Geophysics Inc.The detailed gravity survey confirms the large scale structural hypothesis of a pull-apart basin and also added considerable structural detail. A basin model is generated which reveals the basin to be on the order of 4,000 m deep with an east-west asymmetry, the east side being steeper than the west.
This asymmetry is similar to the Clayton Valley basin as described by Zampirro in 2003. In addition, the asymmetry appears to be an important control to brine entrapment at the Clayton Valley deposit. A 7.4 kilometer long structure is identified in Kibby Valley with characteristics interpreted to be akin to major structures bounding the south side of Clayton Valley.
Figure 1: Modeled Basin Depth over Gray Shade Topography. The figure shows the basin depth or thickness of basin fill beneath the surface. The basin reaches a maximum depth approaching 4000 m with a fair amount of complexity along the basin margins. The overall "Z" shape to the basin, observed by Wright (2016), is even more pronounced in the basin model.
As a result of the positive results returned from the gravity survey, Wright Geophysics and Mr. Hunsaker, Consulting Geologist, have recommended extending the land position east to cover the major structure bounding the basin's east side; and to the north-northeast to cover a portion of the deep part of the basin where it extends northward from the original Kibby claims. The gravity survey identifies several significant structures that juxtapose rocks of differing densities that are most likely basin-fill sediments faulted against the basement rocks.
Vojtech Agyagos, Belmont's CEO and President, commented today:
"The gravity survey and derived basin model fits the Clayton Valley model in sufficient detail as to certainly warrant further exploration. Phase 2 - Drilling and sampling are now being planned."
Rockstone is looking forward to a drill program as a sampling of brine at the basin low may result in the discovery of lithium with grades similar to the Clayton Valley when it started lithium production in the 1960s (estimated at >400 mg/L lithium).
According to today's published Gravity Survey Interpretation Report:
"The second major factor controlling the viability of a given model is assigning the correct density for basin fill. A single drill hole is located within the basin as shown in Figure [1]. This is an oil and gas exploration hole drilled in 1969 by Monte Cristo Oil Corporation. No lithologic logs are available; however, a down-hole density log is available via the Nevada Bureau of Mines. Examination of the log suggests an overall density of 2.1 g/cc is appropriate for the basin fill. This is a typical and reasonable value for basin fill...
Also, an examination of the density log reveals the densities increase near the 1200 m depth and show a sustained average level of 2.3 g/cc to 2.4 g/cc to the bottom of the hole at 1455 m (4776'). This density is below of 2.6 g/cc estimated for the bedrock; however, it could well be indicating weathered bedrock or a basal unit in the fill material. Interestingly, the basin gravity model places the bedrock at a depth of 1200 m in the vicinity of the drill hole...
The model reveals a north – south elongated basin with a depth approaching 4000 m, which is not unusual for basins in the Walker Lane. Of note is the asymmetry in the basin's east – west profile.
Figure [2] shows a section across the basin model 600 m north of the property's north boundary. This section is typical for much of the length of the basin. The west side of the basin is typified by several smaller magnitude structures down-dropping the basin, while the east side is controlled by what appears to be one large magnitude structure. This structure is denoted in Figures [3] and [4] with a heavy dashed line. It is very prominent in the gradient (i.e. Figure 3). The basin is terminated and left laterally offset by major west-northwest structures to the north and south...


Figure 2: East-West Section Crossing the Basin Model (looking north)
Figure 3: Gravity Total Gradient with Interpreted Structures
Figure 4: Basin Depth Model with Interpreted Structures


Zampirro (2003) reviewed the lithium brine geology and geometries in the Clayton Valley deposit (the 3 figures below present a collection of partial figures from his report).
The brines are contained in several layers located along the south margin of Clayton Valley adjacent to the Cross Central and Paymaster Canyon faults, which form the south edge of the valley.Furthermore, the aquifers are controlled by porous layers dipping to the south into the structures and, in the case of the marginal gravel aquifer, ponded by the structures. Clearly, dipping of porous basin sediments toward a major basin bounding structure is geometry conducive to brine containment.
A similar geometry is suggested by the basin model and associated structural interpretation for the Kibby Basin. Of course, the model neither predicts the dip of basin sediments nor if the sediments contain lithium brines. Nevertheless, the basin geometry is sufficiently similar to the Clayton Valley deposit as to deserve additional exploration effort. At Kibby Basin the large structure along the east side of the basin would be analogous to the Cross Central and Paymaster Canyon faults in Clayton Valley.
As Kibby Basin was pulled apart, one could imagine blocks of basin fill being rotated to the east as the large east bounding structure accommodated the majority of the extension. Other structures and structural intersections bounding the main Kibby Basin should also be considered as possible targets for brine concentrations. Indeed, Zampirro (2003) notes structural intersections may have controlled brine concentration in Clayton Valley.
As noted by Wright (2016), blocks of young basalt (QTb) are likely located within the basin fill and could well serve as traps or barriers to basin brine lateral movement. This type of brine trap is certainly unusual but should receive some consideration."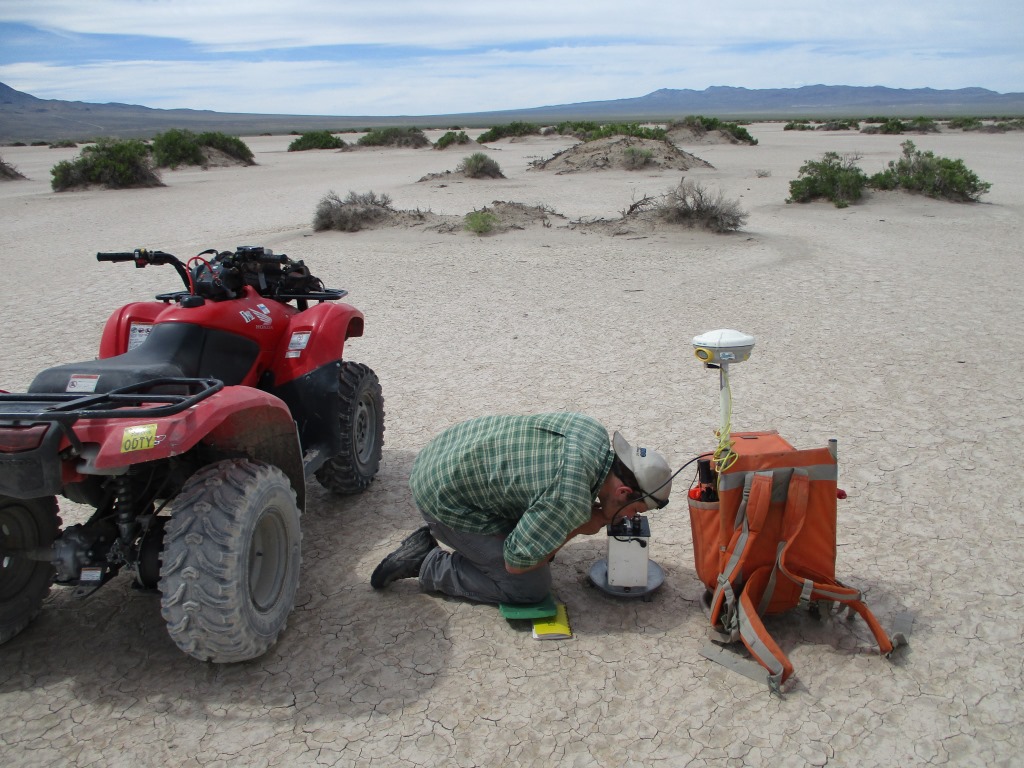 A few days ago, a gravity survey was completed on Belmont's Kibby Basin Property

Conclusion
Rockstone is impressed by the results of the recently completed and interpreted gravity survey on Belmont's 100% owned Kibby Basin Property, which is located 65 km north of the infamous Clayton Valley in Nevada and thus closer to Tesla Motors' Gigafactory #1 near Sparks, Nevada.
The grand opening of the near-by Gigafactory is expected this summer and is anticipated to fuel the next bull phase for junior lithium explorers active in North America. Global media will be reporting in a highly increased fashion about this major inauguration, the last milestone needed to officially start North America's "green energy revolution".
Most recently, the German government moved to make all cars electric by 2030 (today, only 0.6% of cars on roads in Germany are electric or hybrid, thus the market growth potential is immense). "It would be impossible to halve road emissions by 2030 without legislation that directly or indirectly ushers in a phase-out of diesel and gasoline vehicle production," said Oliver Krischer, vice chairman of the opposition Green Party, in an interview Wednesday. "What we need is a boost of e-cars to reach the climate goal that Germany and other countries committed to at the world climate conference in Paris last year." Merkel's government pledged subsidies this year to speed EV and plug-in sales, a move that was accelerated by Volkswagen's emission-manipulation scandal. Currently, buyers of EVs and plug-in vehicles can claim cash incentives. The program may spark sales of about 500,000 electric cars by 2020, according to the Environment Ministry. Purely electric vehicles as a portion of all cars on German roads may reach about 8% in 2025 from 0.6% this year, according to a forecast of the Center of Automotive Management institute. The government has so far stuck with a plan to put a million EVs on the road by 2020 and 6 million by 2030.
Despite numerous exploration efforts, no other valley or basin outside of the Clayton Valley in Nevada has yet sampled lithium-rich brines with deep drilling. Belmont is well on track to become one of the first ones, potentially creating a new investors' focus away from the Clayton Valley, where water rights issues and an official protest from NYSE-listed Albemarle Corp. (>$9 billion USD market capitalization; the only lithium brine producer in North America) have somewhat muted the hopes for the Clayton Valley to become an expandable lithium source for the Gigafactory. As soon as any other basin around Nevada has discovered lithium-rich brines with deep drilling, Rockstone expects a new shift away from the "overappropiated" Clayton Valley.
When Clayton Valley's Silver Peak Mine (owned by Albermarle since 2015) started lithium production in the 1960s, the grades were much higher (>400 mg/L) than today (estimated between 100-200 mg/L) due to depletion of the deposit over time.
As the Kibby Basin has potential to host lithium-bearing brines in a geologic setting similar to the continental brine model ascribed to the Clayton Valley, the Kibby Basin may host brine with a similar grade as the Clayton Valley originally had in the 1960s when operations started.
The 3D gravity model on the next page demonstrates the potential for a massive underground brine reservoir with dimensions estimated at 4 km2 and at least 1.5 km deep. On top of all that, the chances of the water being geothermal (hot) are quite good to say the least.
Thanks to Belmont's recently completed and interepreted gravity survey, the Kibby Basin is opined to be the most prospective area (outside of the Clayton Valley) for lithium-rich brines in aquifers below surface.
CBA Gravity Looking Northeast (presumably this would be the topography if the basin fill was removed; the lithium-rich brine is expected in the deepest part of the basin which is modelled to be beneath Belmont's property):
Black and white satellite picture of the Kibby Basin (flat/center of photo):
---
MANAGEMENT
Vojtech Agyagos (President & Director)
Mr. Agyagos has more than 25 years of management and financial consulting experience and has served as an officer and director on numerous public companies since 1982. This experience has resulted in his managing of exploration projects in South America, Eastern Europe (Slovak Republic) in oil/gas and mineral exploration, and British Columbia, Quebec, Labrador and Ontario (Canada). Mr. Agyagos has served as President and Director of Belmont since December 1996.
Gary Musil (Secretary, CFO, Director)
Gary Musil has more than 30 years of management and financial consulting experience and has served as an officer and director on numerous public companies since 1988. This experience has resulted in his overseeing of financial aspects and expenditures on exploration projects in Peru, Chile, Eastern Europe (Slovak Republic), and British Columbia, Ontario, Quebec and New Brunswick (Canada). Prior to this, he was employed for 15 years with Dickenson Mines Ltd. and Kam-Kotia Mines Ltd. as a Controller for the producing silver/lead/zinc mine in the interior of British Columbia in Canada.
Jake Bottay (Director)
Jake Bottay is a graduate of Simon Fraser University, earning his Bachelor of Arts Degree in 1972. Since 1980, Mr. Bottay has been responsible for project co-ordination, financing, contract negotiations, audit committees and public relations with a number of junior exploration companies. While serving as a Director or Officer on numerous public companies, Mr. Bottay has gained valuable experience in doing business in South America, Europe and Canada.
Roger Agyagos (Director)
Mr. Agyagos has a Diploma in Management Systems from BCIT. Since 1995 he has been Vice President for a private BC company providing office management and financial consulting services to various private and public companies. Mr. Agyagos assists with daily correspondence, office services, preparation of news releases and financial statements.
Dusan Berka (Director)
Mr. Berka (P.Eng.) has over 40 years of international business experience spanning Europe and the Americas with extensive experience in the finance, marketing and administration of public companies, having served as a Director and Officer of various public companies traded on the TSX, TSX Venture and NASDAQ exchanges. A graduate engineer with a M.Sc. (Dipl. Ing.) degree from Slovak Technical University, Bratislava, Slovakia (1968), Mr. Berka has been a member of the Association of Professional Engineers and Geoscientists of British Columbia since 1977.
James H. Place (Advisory Board)
Mr. Place, of Delta, B.C. is a registered Professional Geoscientist (P.Geo.) in the Province of B.C. (1992) and in this function has worked for government and private industry as a consultant for 24 years including engineering groups, environmental assessment specialists, and private mineral developers. His experience of providing support to government and private organizations includes property assessment, project planning, management, supervision, and administration for all types of engineering and development projects. His experience of providing management and directorship on a number of public companies will provide a significant contribution to the Company at this stage of exploration and development.
---
About Belmont

Belmont Resources Inc. (TSX.V: BEA; Frankfurt: L3L1) is an emerging resources company engaged in the acquisition, exploration and development of mineral properties; in Canada and USA. The company has recently entered into an property acquisition agreement to acquire 16 unpatented association placer mining claims, representing 1,036 hectares (the "Kibby Basin Project") in the Monte Cristo Valley, Esmeralda County, Nevada, approximately 65 km north of Clayton Valley. Belmont has previously acquired 4 claim blocks comprising 2,252 hectares located within the Abitibi Harricana-Turgeon volcanic greenstone belt of Northwestern, Quebec. This belt hosts several world class deposits that have produced both gold and base metals. Belmont holds 50% interest in 12,841 hectares of uranium properties located in the Uranium City region of North Saskatchewan. Belmont is focused on the development of these projects through joint ventures, whereby Belmont recognizes exploration activity and minimizes cash commitments.
---
Company Details
Belmont Resources Inc.
Suite 600 - 625 Howe Street
Vancouver, BC, V6C2T6 Canada
Phone: +1 604 683 6648
Email: belmontr@telus.net (Gary Musil)
www.belmontresources.com
Shares Issued & Outstanding: 32,828,453
Canadian Symbol (TSX.V): BEA
Current Price: $0.085 CAD (July 4, 2016)
Market Capitalization: $3 million CAD
German Symbol / WKN (Frankfurt): L3L1 / A1JNZE
Current Price: €0.065 EUR (July 4, 2016)
Market Capitalization: €2 million EUR
---
Analyst Coverage
Research #3: "Prominent gravity low identified on Kibby Basin Lithium Brine Property in Nevada" (June 28, 2016)
Research #2: "Dark clouds over Clayton Valley and green lights for Belmonts Kibby Basin Project" (May 30, 2016)
Research #1: "Early Report on Belmont Resources" (April 13, 2016)
Disclaimer: Please read the full disclaimer within the full research report as a PDF (here) as fundamental risks and conflicts of interest exist.