Vancouver-based investment issuer Zimtu Capital Corp. has recently launched the beta version of its Zimtu Advantage App, an innovative application that can give you an advantage when following the stock market. All data is 15 min. delayed (real-time and more features planned).
While there are about 3,500 stocks listed on the 3 Canadian exchanges (TSX, TSX-V and CSE), about every second stock is currently listed also in Germany. German exchanges can list Canadian stocks by themselves, so they predominately list stocks that trade actively.
In Canada, a stock can be listed only on 1 of the 3 exchanges. However in Germany, a company can be listed on up to 11 different exchanges (i.e. Frankfurt, XETRA, Tradegate, Berlin, Stuttgart, Munich, Hamburg, Hannover, Düsseldorf, L&S, and/or Quotrix). So in order to find out the total trading volume of a stock on a single day, you need to add all of the volumes on all exchanges. However, there exists no free website or application which does that, for which reason the Zimtu Advantage App has been developed. It can give you a distinct advantage in the market. The overriding purpose is being a discovery tool which looks at the whole market on both sides of the ocean. Which stocks are trading highest volume today? Which stocks are in high demand in Germany before Canada opens?
As German exchanges open 7.5 hours before the Canada opens, the app shows which stocks trade well in Germany today and may trade well in Canada later on (and vice versa as Canada closes after the closing of most German exchanges). Many companies announce news at the German open. The app shows where the action is.


Unlock the Opportunity!
Track all +1,700 cross-listed stocks trading in Canada and Germany


Find Opportunity. With one click you can sort the entire market by key metrics such as news, volume, price change (both Canada and Germany).
• Which stocks are trading highest volumes today in Canada and Germany?
• Which stocks announced news today?
• Which stocks are experiencing highest price changes today?
• You can also show last prices, bid and ask either in both currencies (EUR for stocks traded in Germany and CAD for stocks traded in Canada) or both sides in CAD or in EUR. The current exchange rate for EUR/CAD is being applied automatically. This allows you to find out at what prices the German market is trading a stock at the moment in comparison to the Canadian market. Is it more expensive to buy in Germany or in Canada?
Track Peers. Go to "categories", where entire market segments are listed (e.g. all lithium, gold or cannabis stocks) and sort these by key metrics.
• For example, select the "lithium" category to show all lithium stocks in the list, where you can then sort these lithium stocks by volume, price change, news, etc. to see where the action is in this specific sector today.
Stay on Top of the Market. Live news feed for all cross-listed stocks in Canada and Germany.
Pie Charts. When you click on the name of a company, a pop-up window opens (see screenshot) showing you the detailed quote, along with a pie chart comparing the total volumes traded in Canada versus Germany in the last 3 months. This pie chart answers the question if a stock is popular in Germany and/or Canada, and how much each side trades.
Monitor Opportunities. Create your own custom watchlists to track only those stocks that you want.
Registration. In order to unlock all features of the Zimtu Advantage App, you need to register with a valid email address. Registration is free of charge:
The Beta Version of the Zimtu Advantage App is currently only available as a desktop and mobile version (click here). A downloadable app for smartphones and tablets will be available in the GooglePlayStore and AppleStore shortly. If you have any questions or feedback regarding the Zimtu Advantage App, please contact Chris Parr via email cparr@zimtu.com or via phone 604 681 1568.
Where's the action today?
Find the leaders in Germany and Canada

1. Login
2. Select "ALL STOCKS"
3. Click on "VOL" either on the Canadian market side (left) or on the German market side (right) and the list will rank you the stocks with the highest volumes traded today.
When clicking on "VOL" on the German market side (see below screenshot), the stocks with the highest number of shares traded so far in Germany are ranked. Same applies if you click on "VOL" on the Canadian market side, i.e. ranking all stocks with highest volumes in the Canadian market.
Instead of clicking on "VOL" you can also click on "CHNG" to see which stocks are trading higher (or lower) with the largest price change.
Stay informed!
Check out the content section for latest industry reports, interviews and articles


At the bottom, multiple content banners are shown from contributors such as DiscoveryInvesting (Chris Berry), ResourceClips (Greg Klein), Goldinvest (Björn Junker), Rockstone Research (Stephan Bogner). Watch out for more contributors to follow shortly.
When clicking on a banner, a popup window opens showing a summary of the content. To receive the full content, click on the button "Email me the PDF" and you will have it in your inbox instantly.
The Zimtu Advantage App can also be used inside the Rockstone Research App!
Available in the AppStore and in the GooglePlayStore.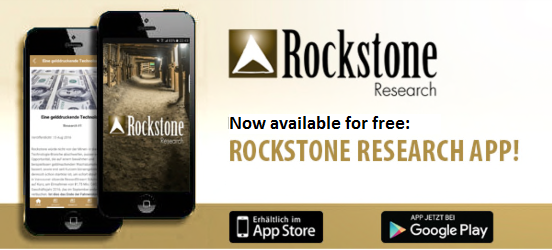 Disclaimer: Please read the full disclaimer within the full research report as a PDF (here) as fundamental risks and conflicts of interest exist.